Why Google My Business Performance and Customer Reviews Are Rebounding
Reputation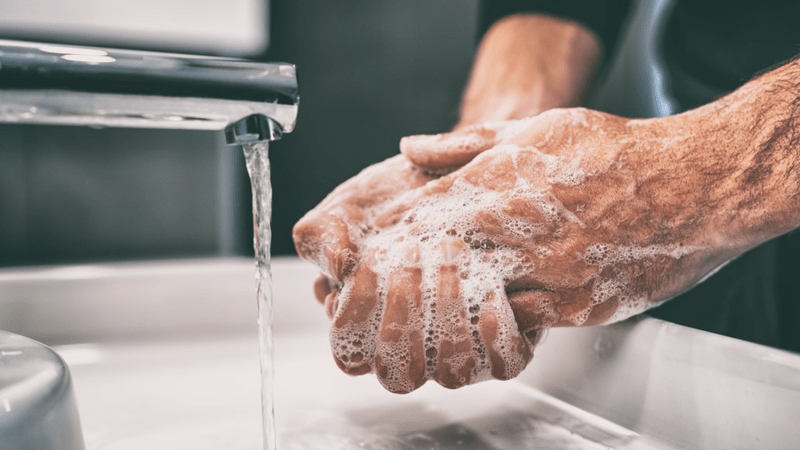 As American brick-and-mortar businesses slowly re-open, they need to manage the content on their Google My Business (GMB) listings more closely – and respond to customer reviews, too. That's the takeaway from a recent Reputation.com analysis of our clients' GMB performance in recent weeks.
GMB: Your Digital Front Door
We monitor GMB performance closely because your GMB listing is a crucial lifeline to your business, as Adam Dorfman, our director of Product Growth, wrote recently in Search Engine Land. A GMB listing is a powerful source of customer reviews, and it's also the single-most-important factor influencing how findable a location is when people do searches, according to Moz.
The COVID-19 pandemic has had an enormous impact on GMB listings. As the pandemic took hold, Google stopped supporting many GMB features. From March 20 to April 9, Google suspended customer reviews on businesses' listings. We also saw a dramatic drop in GMB views (a measure of someone's interest in a business location) and actions such as GMB clicks for driving directions. That's because business storefronts closed during shelter-in-place mandates.
As a Premium Google Partner, we manage business data for tens of thousands of GMB listings. On an ongoing basis, we're monitoring the performance of more than 81,000 GMB listings across multiple industries and geographic locations to see what the hard data tells us about GMB performance. We are finding some strong signs of a turnaround in GMB performance throughout May 2020:
1. GMB Clicks Are Rebounding Faster Than Views
Across most industries we examined, GMB traffic is bouncing back in April and May after a dramatic drop in March – up over 60 percent from rock-bottom levels at the end of March.
GMB clicks – to visit a business's website, to get driving directions to a location, or to call a business – are rebounding much faster than GMB views. For many industries, clicks are approaching pre-COVID-19 levels – not so much for views.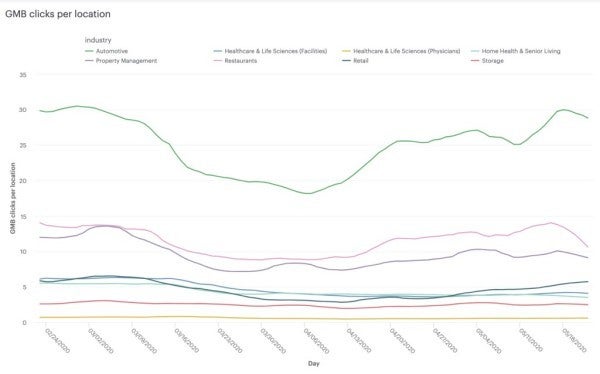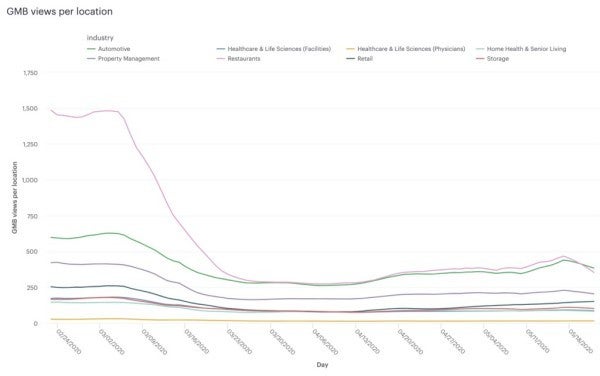 What It Means: Mind Your GMB Listings
The disparity between clicks and views means that people are visiting GMB listings with a stronger intent to take an action such as visiting a site, calling your business, or visiting. As America re-opens its economy and the weather warms up, people are leaving their homes more and contacting businesses. So:
It's critical that you make sure your basic location data such as store hours and your address are correct on your GMB listing as well as your website and storefront because people are clicking through to those destinations for more information.
Be especially mindful to adjust your hours if your storefront scaled them back and is expanding them again as states allow businesses to re-open.
2. Reviews Are Returning – Unevenly
As we noted in a blog post on May 12, in April we started to see the return of reviews for most non-healthcare clients with high review volume following Google's suspension of customer reviews on GMB listings. By the end of April, GMB reviews for North American auto dealers had returned to 44 percent of where they were on March 1. For most other industries,  Google reviews were returning at a much slower rate. For instance, in the restaurant industry, reviews had returned to 7.8% of their March 1 levels.
So what did we find throughout May? Reviews continue to return at an uneven pace. For instance:
Home services have roared back at 107% of pre-COVID levels.
Auto dealers are at 89% of pre-COVID levels.
Restaurants have returned to 56% levels – quite an improvement over 7.8% for April. Nielsen data suggests that consumers are eager to dine out as America re-opens, so restaurants should expect the volume of reviews to increase even more.
Hospitality has returned to 48% – perhaps reflecting Americans becoming more confident about traveling safely.
Healthcare has stalled. Google has brought back reviews for less than 10% of locations in healthcare so far.
What It Means: Respond to Reviews
We suggest that you closely monitor reviews for signs of their returning. Google has not provided a date for when reviews will be enabled in every industry, but it's a matter of time before other industries besides automotive see a measurable return in customer review volume. (At Reputation.com, we help clients request, monitor and manage reviews.)
When you notice reviews coming back, respond to them. As Google notes on its GMB support page, responding to reviews is one way to improve local ranking on Google. In addition, responding to reviews demonstrates that you value your customers' feedback.
Request reviews. Asking for reviews increases the likelihood of your listing being refreshed with positive, timely feedback. Recent and positive reviews also influence your local ranking on Google.
As always, monitor reviews closely to learn from them. Reviews provide a gold mine of customer data that will help you improve your operations. As states ease shelter-in-place restrictions, you want to be ready to provide the best service possible everywhere you operate.
Treat Your GMB Listings Like Websites
Now more than ever, it's essential that you treat your GMB listings as websites with rich content and accurate location data. This article provides more insight. For help, contact Reputation.com.