5 Companies Excelling at Reputation Experience Management (RXM)
Adam Dorfman
Back in May, Reputation.com held its annual conference virtually for the first time: Transform'20. Amongst innovative insights and remarkable demonstrations, thought leaders shared their success stories of excelling at Reputation Experience Management (RXM).
In this article, you can discover how major players in five different sectors succeeded in managing online communities; garnering customer reviews online; using unstructured data to generate actionable insights; and much more.
But first, we'll define Reputation Experience Management and how it relates to the customer journey. You may use the menu below to conveniently skip to the various sections of this article.
What is Reputation Experience Management?
Greystar – Demonstrating RXM Excellence in Social Media
Nissan – Demonstrating RXM Excellence in Customer Feedback
Amita Health – Demonstrating RXM Excellence in Search, Location and Online Visibility
Re-Bath – Demonstrating RXM Excellence as a Cross-Industry Company
Revolution Bars Group PLC (UK) – Demonstrating excellence in multiple RXM areas
How Your Company Can Achieve Excellence in Reputation Experience Management
What is Reputation Experience Management?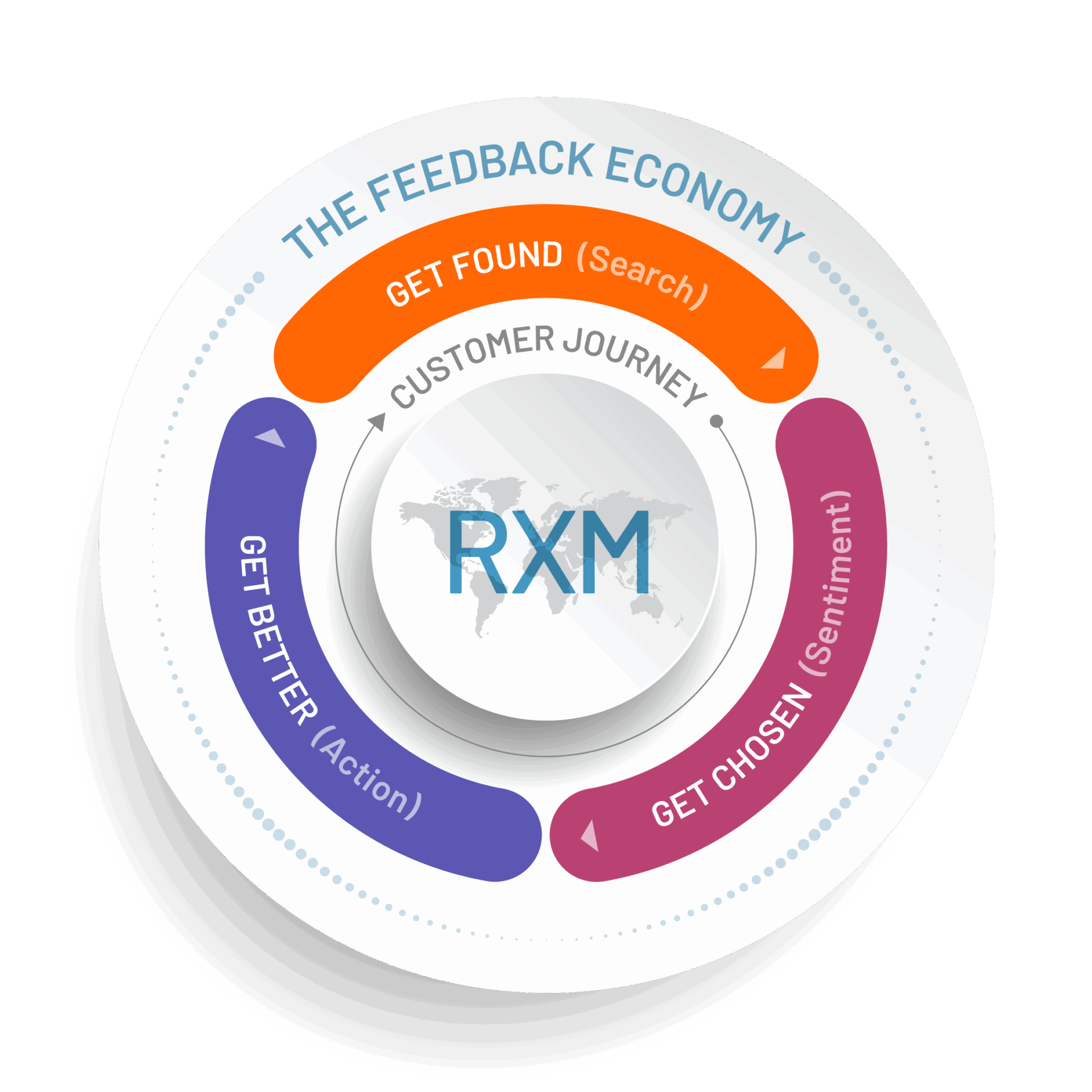 RXM blurs the line between unstructured data handled by a company's marketing team and the structured data managed by a company's Customer Experience (CX) team. It is at the heart of the 'Feedback Economy' and it drives the customer journey enabling businesses to get found, get chosen and get better. RXM is the fusion of Online Reputation Management (ORM) with Customer Experience Management (CXM). The graphic below illustrates the concept of RXM:
Each stage of the customer journey as illustrated above sees customers interacting with a number of different digital touchpoints, including listings, surveys, social media and much more. RXM can be viewed as the integrated management of one or more touchpoints within the customer journey. Find out more about RXM, how it works and why it matters in this article.
Greystar – Demonstrating RXM Excellence in Social Media
While the rise and continued growth of social media present numerous opportunities for companies, social media management also presents an equal number of challenges. Large businesses, spanning numerous locations, in particular, face a losing battle to manage social media communities and social content locally if the right solutions are not sought and obtained.
Greystar, a leading global rental housing leader in 193 markets, like so many multi-location companies, realised a growing need to easily and confidently manage social channels to post content enmasse. By adopting Reputation.com's Social Suite to engage residents and communicate critical location updates, Greystar revolutionised their usage of social media in the property and real estate market.
Using Social Suite, Greystar became a prolific user of social media creating 93,600 social posts in just one year from 2019-2020. Also, they managed over 1800 distinct communities through the use of our Social Suite Platform and crucially, they were able to leverage the platform's capabilities to update 200 communities with critical information before, during and after Florida's storms and adverse weather.
Becca Hallisey, Greystar's US National Marketing Manager, owes much of Greystar's success in this area to Reputation.com's Social Suite which enabled Greystar to accomplish the aforementioned levels of social media performance:
"The social dashboard within Reputation.com was a win-win for us. It allows us to easily manage social, it has content management and storage components and it lets us do mass posting – critical during hurricane season and for emergencies."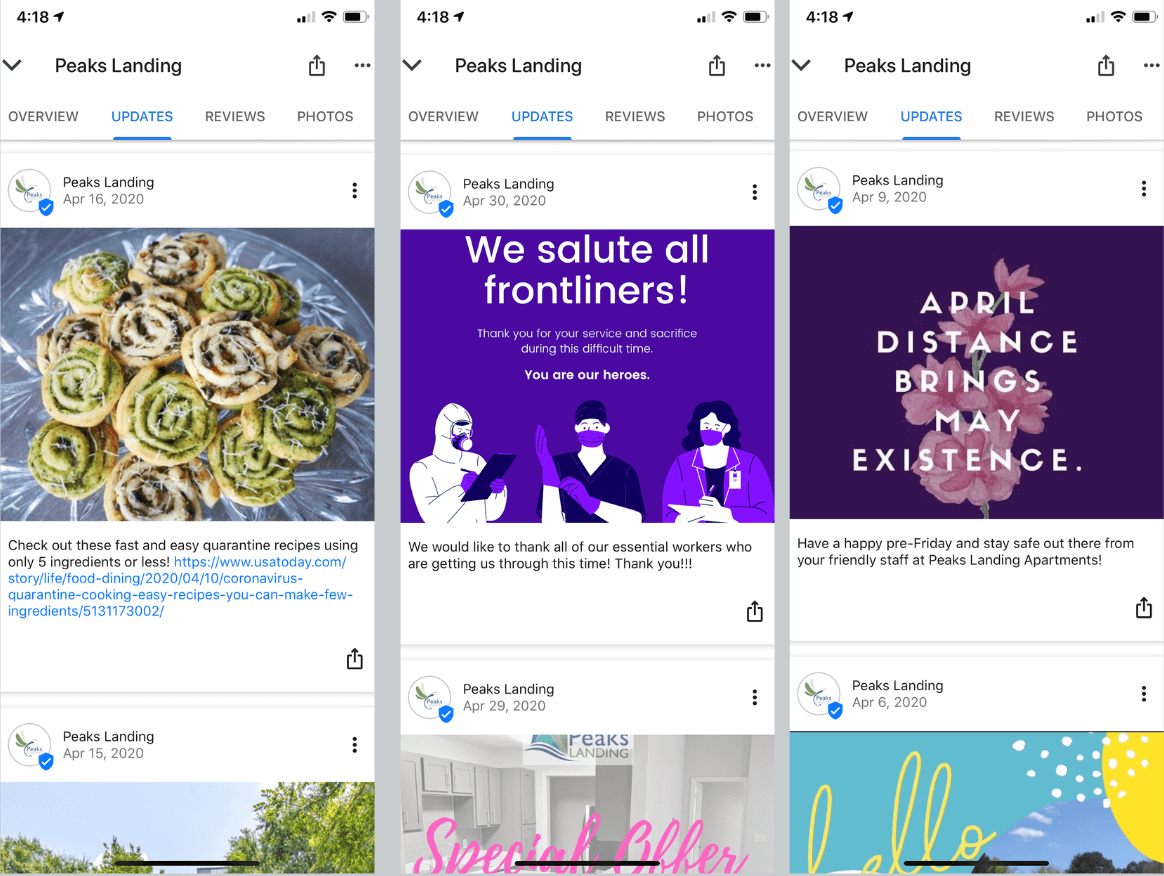 Nissan – Demonstrating RXM Excellence in Customer Feedback
Automotive giant, Nissan, realised the need to centralise customer feedback and to enable each of their dealerships to achieve greater review volume and improve feedback response rates to drive-up their online ratings overall.
Nissan looked to Reputation.com for a solution to these needs and their results have been extremely impressive. Most notable among Nissan's achievement in the area of customer feedback is their 34% increase in review volume which was achieved through the use of Reputation.com's customer feedback modules.
Furthermore, Nissan enhanced their online reputation by diligently responding to negative reviews to achieve a 66% response rate to negative reviews. As a consequence of Nissan's impressive efforts and application of Reputation.com's solution, the automobile manufacturer decreased negative sentiment about their brand by 0.5% and achieved a number one spot in Reputation.com's 2020 US Auto Report.

Amita Health – Demonstrating RXM Excellence in Search, Location and Online Visibility
US healthcare provider, Amita Health, in the midst of the COVID-19 pandemic, urgently needed to connect patients with doctors equipped to conduct consultations virtually.
As a key player in the fight against COVID-19 in the US, Amita Health's forward-thinking team implemented numerous measures using Reputation.com's patented technologies, including the locator tool. Eric Schmuttenmaer, System Associate VP in Digital Technology and Innovation at Amita Health, recalls how Reputation.com's tools were key to enabling the healthcare provider to respond to the coronavirus crisis quickly:
"AMITA had the second confirmed COVID-19 case in the US, leading our medical group to look at what we do with telehealth. We started asking how to connect our providers with patients during this stay-at-home period. We needed a solution to connect the community with those providers who offered the option of virtual visits. We were able to do this with Reputation.com's Locator tool within two days."
As a result of Amita Health's rapid response in partnership with Reputation.com, over 1300 patients were impressively connected to doctors and medical practitioners during the 'stay-at-home order' issued across the US.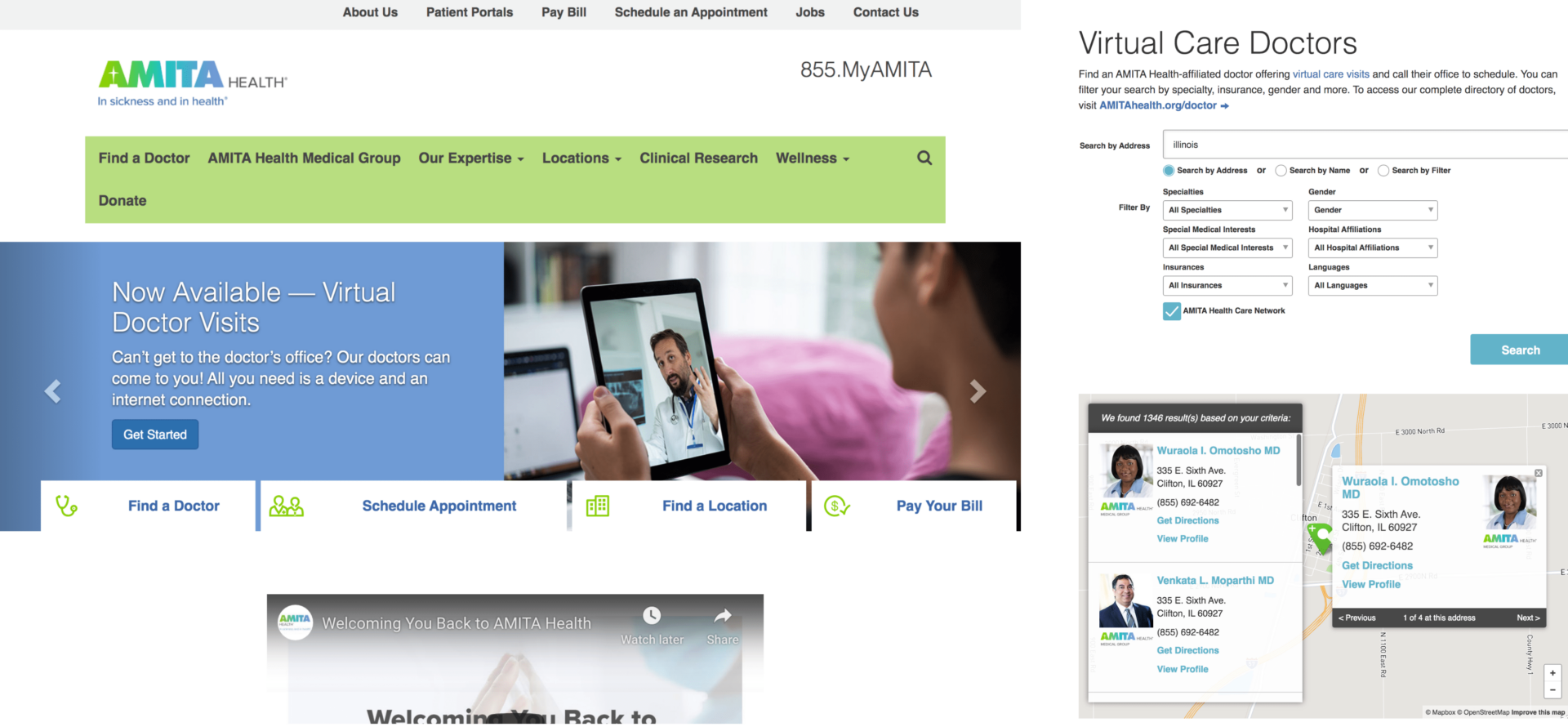 Re-Bath – Demonstrating RXM Excellence in Customer Experience
With locations across the entire United States, Re-Bath was looking for a solution to streamline and simplify the customer review process across their numerous vendors and to gain a detailed picture of customer sentiment around their brand.
Partnering with Reputation.com, Re-Bath found their solution and the bathroom remodelling specialists began using Reputation.com's formidable platform to manage reviews and business listing across all of their locations. What's more, is that Re-Bath went further and utilised the platform to adopt a systematic and managed approach to responding to customer reviews for each Re-Bath vendor.
Achieving a 100% review response rate and doubling their review volume in just two years, Re-Bath significantly improved their Reputation Score by over 116 points and achieved a 4.6 average location star rating on Google. These feats have enabled the business to convert more customers via business listings.
Lindsay Ellis, Marketing Director at Re-Bath, highlights the company's partnership with Reputation.com as being critical in gaining insights into customer sentiment and experience:
"We love our programme with Reputation.com. It has made my life so much easier as far as being able to understand what's going on in the company with our customer sentiment and customer experience."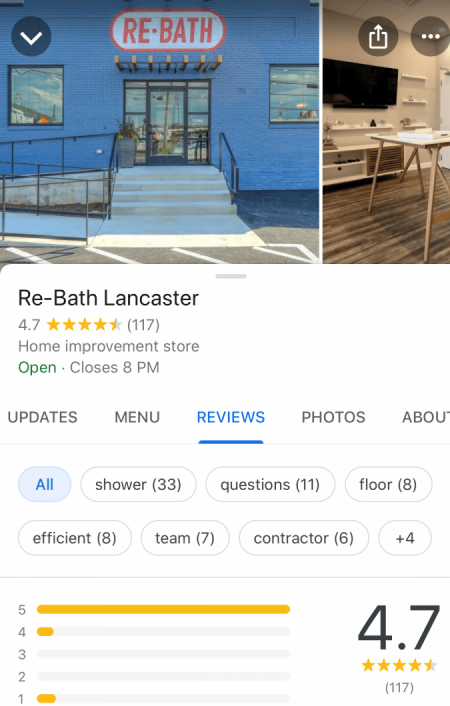 Revolution Bars Group PLC – Demonstrating excellence in multiple RXM areas
A renowned chain of UK bars and restaurants listed on the London Stock Exchange with over 77 locations and 3,000 employees, Revolution Bars Group PLC has been exemplary in overhauling its approach to RXM.
The company has seen major changes in the business landscape of the hospitality industry and risen to tackle some considerable challenges in this time. One such challenge was the shift from traditional marketing methods to the 'Feedback Economy' where consumers seek out and trust the opinions of others. Recognising and anticipating a seismic change in the industry, the commercial team sought out a solution to enable Revolution Bars Group PLC to adapt to changing consumer needs and habits:
"We wanted to stay ahead of the curve and start managing how our brand was being perceived online."
More specifically, Revolution Bars Group had for objectives to spread customer feedback more evenly across multiple third-party sites as well as gather feedback from the experiences of all customers, not just cocktail Masterclass patrons
The hospitality chain implemented the use of Reputation.com's platform across the business to manage online reviews and business listings as well as to obtain customised reports relating to the company's RXM performance.
Revolution Bars Group, PLC while using Reputation.com's unique solution, achieved incredible success in the field of RXM, most notably:
100% review response rate;
60% increase in year-on-year review volume;
125% increase in listing views;
103% increase in listing clicks-to-phone;
89% increase in listing clicks-to-directions;
130% increase in listing clicks-to-website;
+56% increase in Reputation Score.
The ability to present key metrics and robust data to business leaders, including real-time sentiment analysis made a huge impact on Revolution Bars Group:
"I like what Reputation.com is set up to do, which is giving me real-time sentiment. It's important for me to understand at any one moment in time what our customers are saying about us and what they feel about us. Before, I never had that ability, but I have visibility on it now.

The platform provides a suite of options, so depending on what our objective is — whether it is looking at a specific aspect, trying to get down to the granular detail at a specific location — we are able to easily get the information we need. It also gives us genuine integrity in the feedback as to whether what we're doing is working or not. One advantage comes from seeing everything within a single dashboard.

As a professional business that innovates and creates a forward-thinking way of doing business, partnering with Reputation.com innovates how we listen to and communicate online with our customers."
How Your Company Can Achieve Excellence in Reputation Experience Management
Our examination of companies excelling in RXM in various industries highlights a number of common themes and patterns. Perhaps most notable is the need each company had for an integrated software solution to support various aspects of the customer journey.
Aside from the adoption of our software solution, each company was prolific in at least one area, whether review requesting and response, business-listing management or leveraging the power of social media.
However, it's perhaps safe to say that without Reputation.com's platform, the likes of Nissan; Revolution Bars Group; Re-Bath; Amita Health and Greystar may not have been able to achieve their astounding RXM results without considerable hardship and spiralling costs. With our platform, revered brands not only achieve RXM excellence, but they also keep costs low while delivering a first-class customer experience which drives revenues.
The path to RXM excellence involves first identifying a need or a deficiency in your company's online reputation and customer experience management. Once needs are identified, the next step is deciding upon a software solution and implementing this solution across your company. Finally, an analysis must be undertaken to ascertain the success of these measures.
Fortunately, Reputation.com can assist at every stage on your journey to RXM excellence. From identifying deficiencies within your company's online reputation and CX to implementing a solution and analysing trends and customer sentiment, Reputation.com offers a one-stop solution to your business' key digital marketing challenges. Don't delay your embarkation on the road to RXM success and book a demo with one of our friendly, expert agents today via the form below.