4 Ways to Better Serve Your Customers During COVID-19
Reputation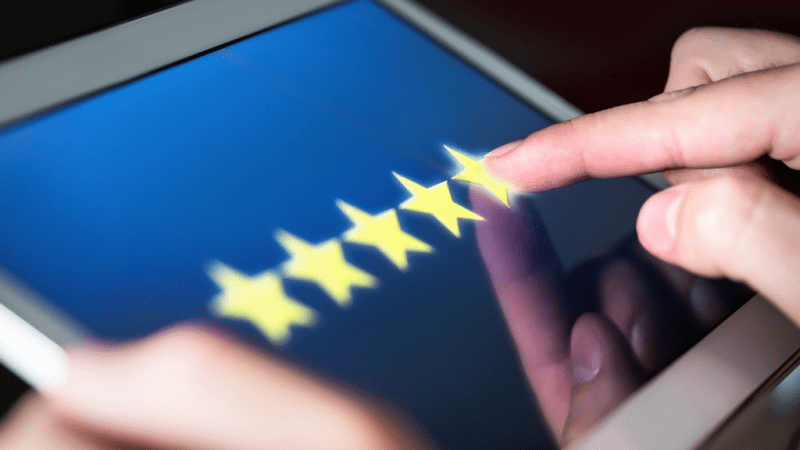 The COVID-19 pandemic has initiated big change. Digital transformation is a business imperative, as people must now rely on digital channels to connect and engage with brands. Today, new technologies and tactics are required to meet customer expectations, and your ability to rise to the occasion rapidly will determine your success.
Leveraging our premier partnership with Google, Reputation.com has developed many new solutions to help you engage effectively with your customers and communities and continue to drive business and revenue during the COVID-19 crisis and beyond. In this post, we'll take a look at these new solutions and how they can help you:
Keep customers informed
Understand changing customer sentiment
Point customers to the services they need
Respond promptly to customer inquiries and feedback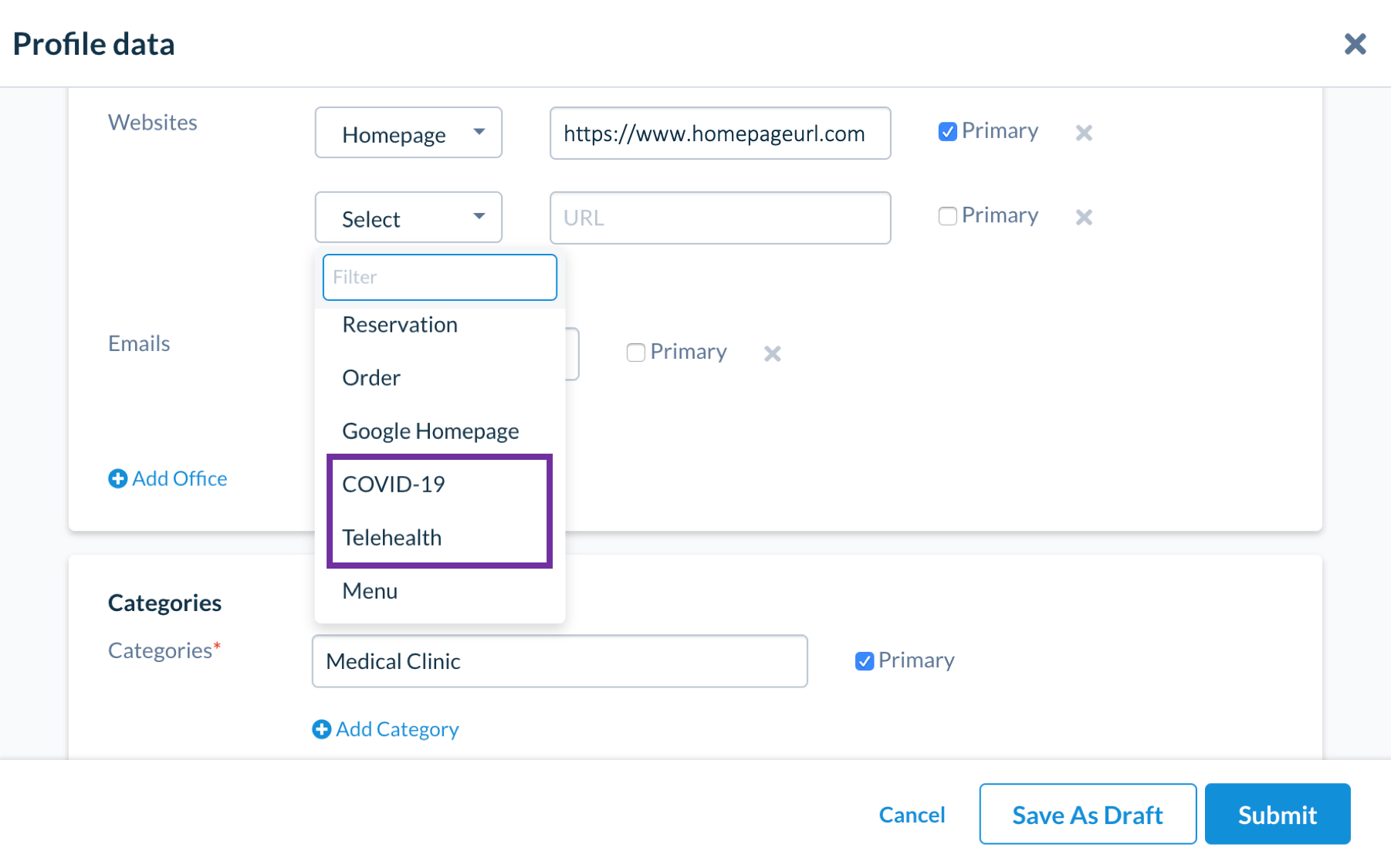 1. Keep Customers Informed
Most of your customers find you on Google, and during the COVID-19 pandemic, the Google My Business (GMB) service has undergone a number of changes that impact your online presence. Thanks to our close partnership with Google, we get early access to information about such changes. This allows us to make it easy for you to take advantage of new GMB capabilities as they become available, directly from our platform, and keep your listings up-to-date with the most recent and accurate information.
From the Reputation.com platform you now can:
Publish two new links to your GMB pages for 1) general COVID-19 information, and 2) Telehealth services (available to healthcare customers).
Create and share Google Posts using the new "COVID-19 Update" post format.
Publish a number of new location attributes, such as "offers video visit."
Additionally, in mid-May, you'll be able to mark your listings as open or "Temporarily Closed" from our platform.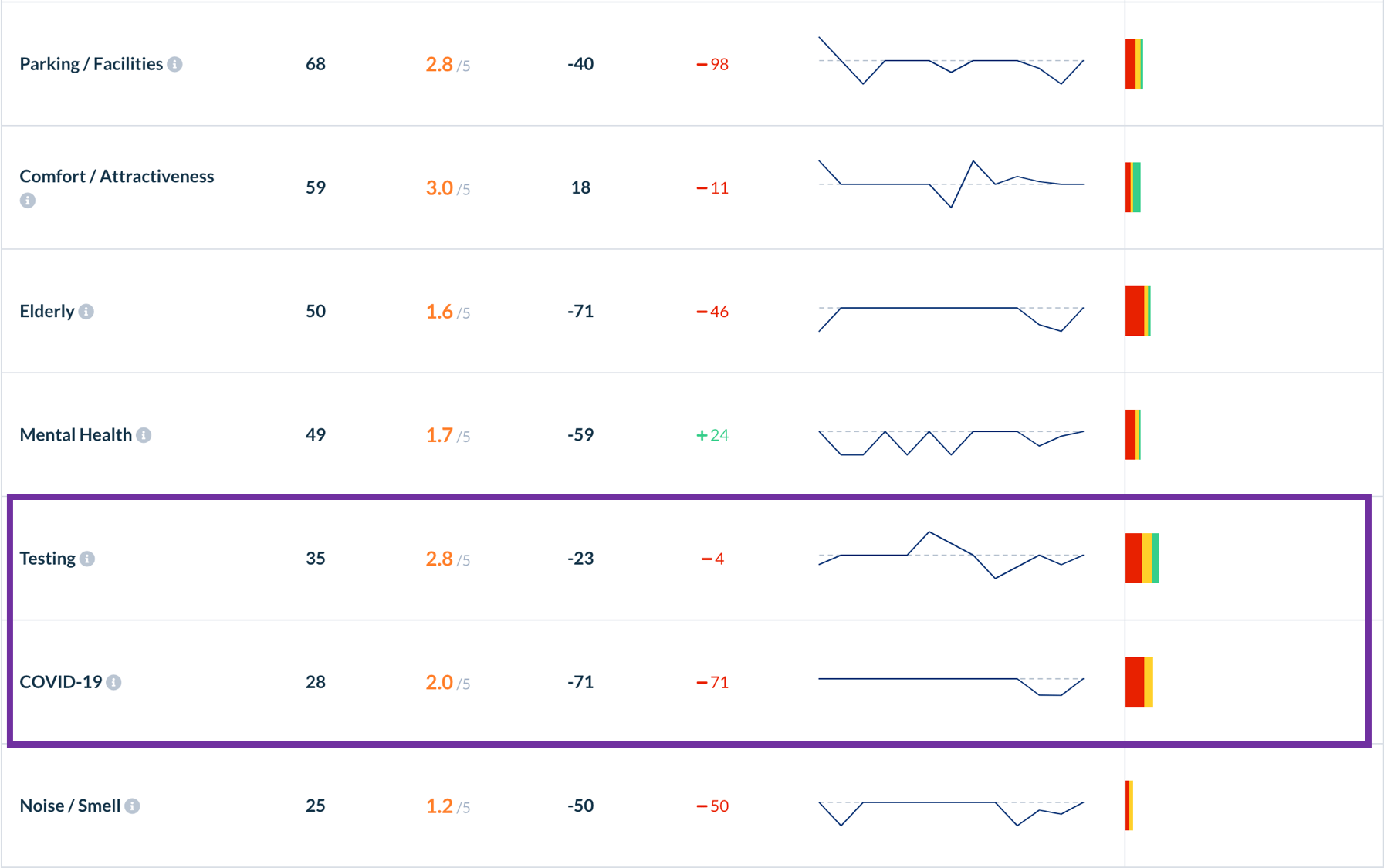 2. Understand Changing Customer Sentiment
The Reputation.com Operational insights tool has been called a "secret weapon" by our clients. It's quickly become an effective way to triage customer comments and feedback into specific, highly relevant categories that matter to your business. It's also the fastest way to operationalize your strengths and weaknesses, based on how customers perceive your performance. If you haven't explored it yet, connect with your customer success manager for an overview!
Operational Insights is especially relevant and important now. Along with many other aspects of daily life, the things your customers care about have changed since the COVID-19 outbreak. What they're talking about is reflected online and in your customer surveys, and we want to make it easy for you to spot these changing trends across your feedback points so you can address them. To that end, we've created a number of new comment categories in our Operational Insights tool that enable you to capture this new customer sentiment in intuitive, themed buckets.
The new feedback categories we've added are:
"COVID-19" (available to all customers)
"PPE/Safety" (available to all customers)
"Testing" (available to healthcare customers)
"Virtual Visit" (available to healthcare customers)
"Valet/Door-to-Door Service" (available to automotive customers)
"Pickup" (available to retail customers)
Additionally, we've added the ability to turn a customer comment into an action item with just a couple of clicks and generate an issue ticket in our Actions suite that your team can promptly address.
Our Operational Insights tool, with smart COVID-19 comment categorization, is part of our Business Continuity Bundle that we're currently offering at no cost for 90 days.
3. Point Customers to the Services They Need
Companies in all industries are struggling to keep customers informed about what they should do and where they should go to get the services they need during the crisis. Whether it's finding the appropriate healthcare facility or identifying locations that offer curbside pickup, your customers are looking for answers. We can help you provide clarity to your customers with our new COVID-19 Location Finder, an enhancement to your own web portal where you've ideally already placed your most helpful resources and content.
The Location Finder is a dynamic widget for your website that:
Displays a unique group of your locations on a searchable map, which you can embed on your own website.
Improves transparency to reduce customer confusion and support staff workload.
Is quick and easy to set up, can be edited at any time, and updates dynamically from the Reputation.com platform.
This tool is available to companies in every industry. Due to strong demand from healthcare clients, we've also included it as part of our Crisis Management Support for Healthcare bundle.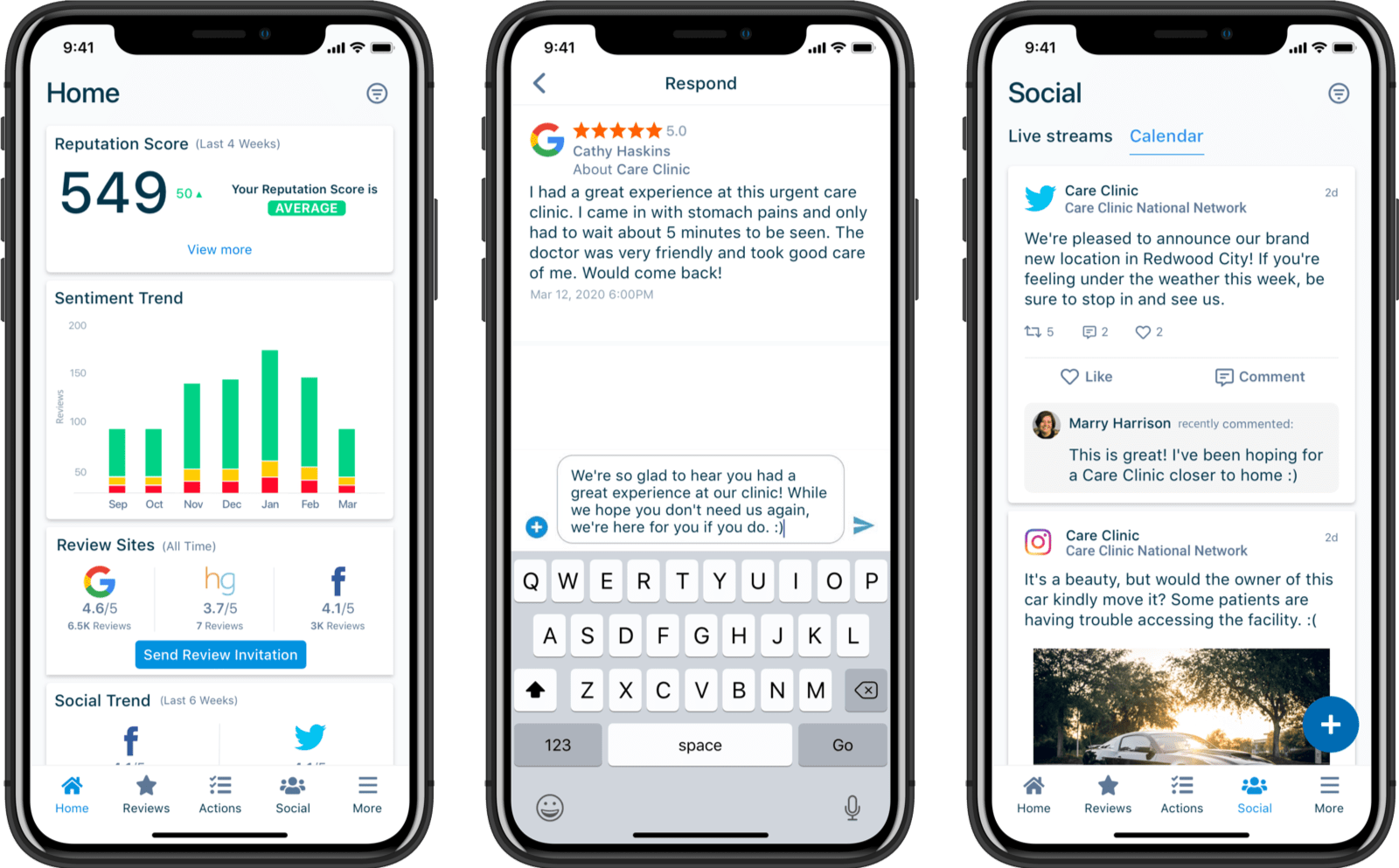 4. Respond Promptly to Customer Inquiries and Feedback
Working from home while juggling personal responsibilities means you're not always at your computer. That's why the Reputation mobile app matters now more than ever.
The app puts our platform in your pocket. It's an invaluable tool for fast and efficient customer communication and can help you handle increasing feedback from the COVID-19 crisis. An updated design and improved user experience make it now easier than ever to:
Quickly design impactful social posts to broadcast information across your locations' channels.
View and respond to customer comments related to COVID-19 — especially while you're away from your desk.
Create, assign and track Actions tickets so your team can follow up on important issues.
Search "Reputation" on the Apple App Store or Google Play Store to download it today.
Keeping You a Step Ahead
Your customers' expectations have changed quickly, and our goal is to help you exceed them time and time again. Our Product team is already working on the next set of innovations to give you an edge over your competitors and help strengthen your customer relationships even during these challenging times. Stay tuned for our next update in early June.
Want to check out all the ways Reputation.com is helping clients through the COVID-19 crisis? Access our Resource Page today.