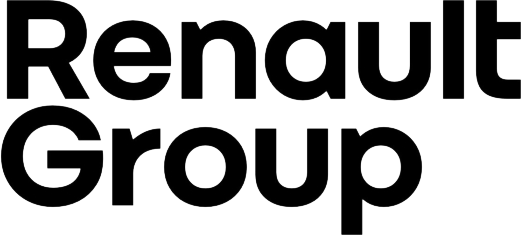 The #1 Reputation Management Platform for the Automotive Industry
Improve online visibility and engagement; increase sales and service leads;
and drive higher customer satisfaction: all from a single platform.
Reputation offers the most complete Reputation management platform for Groupe Renault Dealers.
eRep & VoC Survey
Download the quick start guide
VoC Q&A
For support emails and number see the attached Q&A
Dealerships that effectively manage their online reputation see results:
More impressions on Google
More vehicle sales
per year on average
Increase sales
volume on average
Groupe Renault Programme: Summary & Objectives
To be successful in today's Customer Experience climate, businesses must optimize a strategy that incompasses both structured and unstructered feedback channels. Groupe Renault as a business recognises this and so has implemented a highly innovative remuneration system for the NSC network that recognises the importance of Reputation Experience Management (RXM) and its performance.
Reputation delivers a best-in-class software and strategic consultancy to help Groupe Renault and its NSC network become leaders in the Customer Experience space. By capturing all of the customer moments in the consumer journey and every piece of feedback along the way, the Reputation engine provides Renault with actionable insights that actually drive improvement at all key hierarchical levels – Corporate, NSC, and Dealership.
Business Listings
Business Listing Creation: Provides the ability to create a dealer's business listings on various listings sites e.g. Google. Enables mass creation of business listings e.g. Dacia listings across an NSC. Manage and update listings to publishers. Close and remove listings when they are no longer relevant.
Business Listings Performance: Enables the monitoring of how many customers viewed and interacted with the listings.Enables the monitoring of how many customers viewed and interacted with the listings e.g. by clicking to the dealer's web page, directions and call. Also provides other performance metrics such as the times of day that customers interact with the listings, audience demographics on Google etc.
Business Listings Duplicate Management: Automatically identifies potential dealer listing duplicates and enables you to easily manage them. Automatically identifies potential dealer listing duplicates and enables you to easily manage them. Receive alerts when potential duplicates for your listings are detected. Duplicate detection is performed quarterly. Reputation will coordinate with publishers to suppress or merge the duplicate listings once confirmed by you.
Business Listings Directory: Provides a master directory of the dealer locations' data e.g. name, address, telephone, opening hours, and other Groupe Renault codifications.This directory acts as the master source of truth for other presence management capabilities including creation, correction, monitoring, reporting etc.
Business Listings Monitoring: Automatically collects business listings data from online review sites like Google. Uses the data in the directory to monitor the health of the dealer's business listings i.e. the level of data accuracy.
Review Management
Review Monitoring:
Access a frequently updated, global list of review sites from a single centralised dashboard e.g. Google reviews, Facebook reviews, Yandex reviews etc.
Dealers can receive review alerts via email with customized alert frequency. Flag, forward, or share important reviews for follow-up action.
Filter reviews by location, review site, sentiment, date, and additional custom filters. Analyse trends for review sentiment, volume, average rating and more.
Review Responding:
Respond to reviews from one centralized dashboard. Efficiently create personalized custom response templates.
Adapt response templates based on sentiment and location.
Competitor Insights
Local Competitor Reporting V1 (2x competitors per location):
Compare your dealer's location performance vs. their local competitors in areas such as review volume, average star rating, feedback sentiment, Reputation Score, and many more.
VOC Subscribed Services
Survey Module: Running 4 surveys in line with Renault's VOC programme – Sales, Service, Test Drive, Call Centre. Across Renault, Dacia, Lada and Alpine brands in relevant geographies.
Hot Alert Management: The ability to create tickets based on survey responses with automation rules. Build escalation rules to establish SLAs for ticket closure.
eRep & VOC Insights
Experience Insights:
Text and verbatim sentiment analysis. Track the topics driving customer feedback to understand operational strengths and weaknesses. Industry-specific topic categories are automatically identified using AI and machine learning. Multiple automated text analysis tools applied to Surveys and Reviews: Word Cloud, Sentiment Map, Operations, and Big Movers leaderboard. Track sentiment trends, keyword impact and location-level progress by automotive category—across custom location groups or your entire organisation. View rating breakdowns across locations, websites, and survey campaigns. Compare your performance to industry peers. Generate Insights-driven reports for print or automated email distribution (PDF or CSV).
Dashboard and Reports:
Configurable reports and dashboards to report and monitor on a wide range of eReputation metrics. Role-based access enables reporting at every level of the Groupe Renault business structure/hierarchy. Automated report scheduling sends pdfs / csv reports to specified recipients. Real-time dashboard reporting to ensure that metrics are always up-to-date. Over 50 out-of-the-box reporting widgets. Drag-and-drop report and dashboard builder provide easy custom report generation.
Reputation Score:
A comprehensive, accurate measure of how your business and the dealers' businesses are found, chosen, and experienced. Drill down into weighted Reputation Score sub-components (e.g. Listings Accuracy, Review Volume, Average Star Rating, Response Rates, Listing Accuracy etc.) to understand your strengths and areas to improve. Score your locations against average and best-in-class competitors across your industry. Tailored recommendations for every dealer location on how to improve their eReputation.
Business Listings
Business Listing Creation: Provides the ability to monitor the dealer's business listings data across various business listing sites e.g. Google, and automatically correct any data that becomes incorrect. This ensures that the dealer's business listings are always accurate on sites like Google etc. Listings audited and corrected nightly (approx every 24 hours) to maintain accuracy and consistency across publishers.
Business Listings Publisher Suggestions: Receive and manage user (end-consumer) suggestions in a single dashboard to improve the quality of data in your Source of Truth.
Business Listings Rich Content: Enables dealers to enhance their GMB listings with FAQs and Product Catalogs.
Business Listings UTM Tagging: Gain a deeper understanding of your best presence management channels by publishing source-specific UTM tags to your website URLs.
Google Q&A: Monitor and respond to local customer questions in the Google Knowledge Panel. Post and answer FAQs to streamline the customer journey.
Google Posts: Create Google Posts on each dealers' GMB page. For example posts that detail service offers, new vehicle incentives, new model information, or special events happening at the dealership. Post to individual dealers or undertake mass-posts to all or a subset of dealers.
Review Management
Review Requesting:
Deploy review requests via multiple channels: website, email, SMS.
Fully leverage your sales data via API integration with your CRM or regular CSV file uploads via SFTP.
Utilize customized and branded request templates. Deploy automated drip campaigns to encourage customer feedback.
Automatically prioritize the highest-impact review sites using our patented methodology.
Review Streaming:
Stream reviews to your webpage automatically.
Syndicate customer reviews to your location pages via API.
Define filters to automatically publish feedback based on rating, timing, source, sentiment, and more. Publish reviews via an iframe (served by Reputation) or SEO-optimized mode (served by your domain).
Competitor Insights
Local Competitor Insights V2 (3x competitors per location):
Compare your dealer's location performance vs. their local competitors in areas such as review volume, average star rating, feedback sentiment, Reputation Score, and many more. Provides all the analytics and sentiment analysis of your locations to your competitor's locations e.g. sentiment map, sentiment taxonomy, word clouds etc. Drill-down to individual competitor reviews.
Our Customers Are Our Best Advocates
This is an incredible, easy-to-use platform that has significantly boosted our online presence and reputation since starting to use the service 2 and a half years ago.
[Reputation] also helps us to identify and correct any issues that our guests may experience at our location that we were not previously aware of.
[Reputation] also helps us to identify strengths in our business model that we can continue to build on.
Saves a ton of time when it comes to working with the reputation so managers don't have to go to several sites in order to view and respond to online feedback.
The features are also unmatched when it comes to streamlining the process and making it as easy as possible
[Reputation] regularly updates the platform to add additional features and improvements where needed.
[Reputation is] great at support and communicating. If we ever have an issue, they are quick to address it.
[Reputation Managed Services] have well-structured responses and represent us well.
Our rep is very well trained and can answer questions in real-time rather than submitting cases, and us having to wait for answers.
Beyond the team, the platform is very user-friendly, easy to navigate/pull reports and identify trends.
Reputation takes the work out of asking customers for feedback. It makes it easy to find out what customers think about our business.
The platform is super easy to use. I really like that you can respond to reviews and surveys all in one place, without having to log into different sites.
The response templates save so much time too. It has also increased the amount of surveys and reviews we get from customers.
Very intuitive and easy-to-use platform. The platform is very intuitive and helps you find what you're looking for very easily when it comes to finding the Reputation score for your business.
I love the suggestions for improvements to your reputation score.
Not to mention their customer service and staff are a dream to work with. I wish all companies were this easy to work with!
Their app to solicit reviews in real-time is a game-changer!
Our Reputation Score increases YOY consistently and is at the top of our market.
We have increased our amount of reviews tremendously, and much due to their ease of access.
First and foremost, it is our account team at Reputation that I like best. They are attentive to our needs – a large family-owned dealership group with 22 locations.
The #1 Reputation Management Platform for Groupe Renault Dealers. More Renault dealerships trust Reputation than any other provider to improve online reputation.