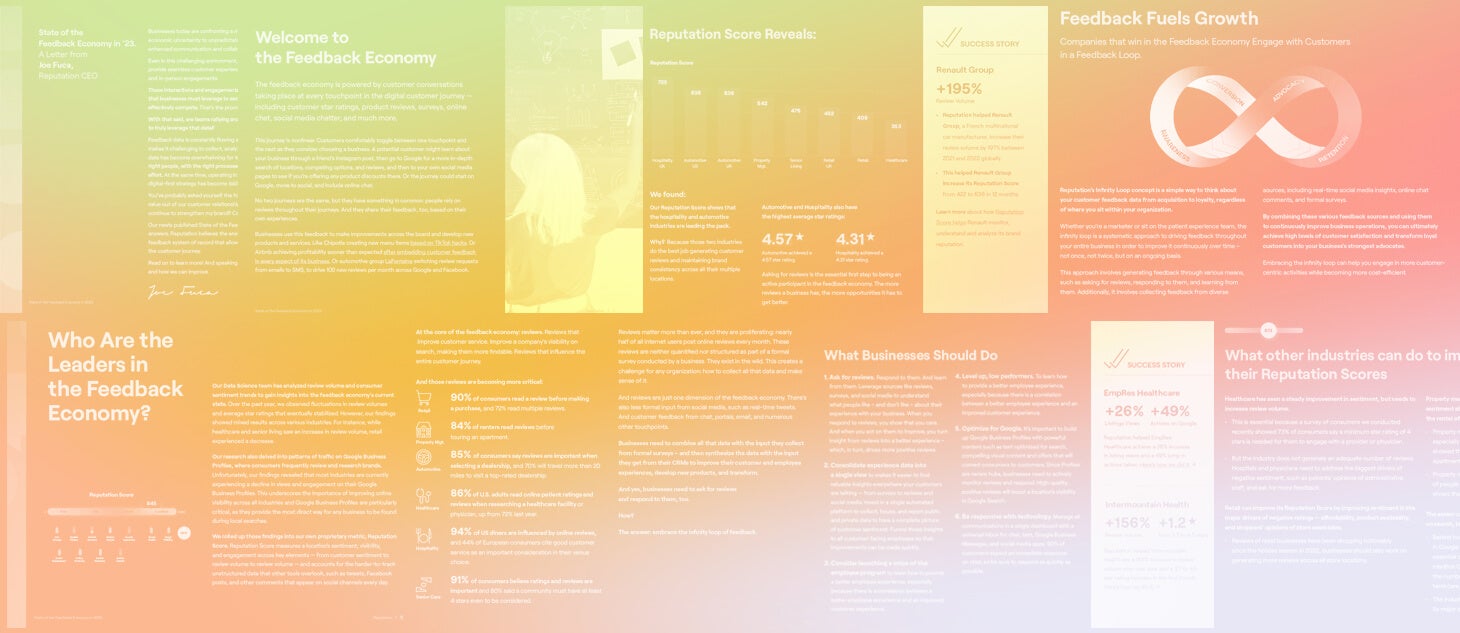 State of the Feedback Economy in 2023
Our Data Science team analyzed review volume and consumer sentiment trends to provide valuable insights into today's feedback economy. From patterns of traffic on Google Business Profiles to strategies for customer relationship value and brand strengthening, our research covers it all.
No two customer journeys are the same, but they have something in common —
Reviews. At the core of the feedback economy are "reviews." Reviews improve customer service and improve a company's visibility on search, making them more findable. Reviews influence the entire customer journey.
90% of retail consumers read a review before making
a purchase, and 72% read multiple reviews.
Reviews are just one dimension of the feedback economy. There's also less formal input from social media, such as real-time tweets. And customer feedback from chat, portals, email, and numerous other touchpoints.
Businesses need to combine all that data with the input they collect from formal surveys – and then synthesize the data with the input they get from their CRMs to improve their customer and employee experiences, develop new products, and transform.
Download the Report and Explore Key Findings
Reputation helped Renault Group, a French multinational car manufacturer, increase their review volume by 197% between 2021 and 2022 globally.
Within a month, Reputation helped Intermountain Health increase from 3.7 to 4.5 stars and a 156% increase in review volume year over the first year.
Who Are the Leaders in the Feedback Economy
What industries can do to improve their online reputation
Six key steps that every business can implement to thrive in an economy driven by ratings and reviews