Reputation Matters: 5 Factors Driving Shoppers Into Stores this Holiday Season
Will holiday shoppers visit a brick-and-mortar store during the pandemic?
This is the question every major retailer is asking, and for good reason: despite Covid-19 and the accompanying surge in eCommerce in 2020, shopping is still very much an omnichannel experience, and one where brick-and-mortar stores still command a majority of retail revenue.
According to the U.S. Census Bureau, eCommerce sales in the second quarter of 2020 accounted for 16.1% of total sales. Nielsen says that due to the pandemic, 27% of global consumers started to shop online for the first time — but even with that rise, only 1% of the general population shops online exclusively. To be sure, the in-store shopping experience has changed dramatically — but it has not gone away.
At Reputation.com, we analyzed consumer sentiment data across hundreds of retailers and more than 32,000 locations to uncover the reasons why shoppers choose to visit a brick-and-mortar store this holiday season. By applying natural language processing and artificial intelligence to unstructured text, our Data Science team looked at actual consumer reviews on Google, Facebook, and other sources to uncover patterns in customer feedback. We came up with a surprising answer:
Customers desire a pleasant in-person shopping experience. The share of reviews mentioning staff and professionalism has doubled since the start of the year, and those reviews are largely positive.
In all, we uncovered five factors driving shoppers to retailers' doors, as discussed below. These are the steps retailers need to take to ensure customers are comfortable shopping in stores this holiday season.
1.

Prepare Your Front-Line Employees to Go the Extra Mile

A store's people can be a source of comfort during uncertain times. Like when an employee wipes down a self-service lane. Or when the cashier at the check-out counter takes the time to ask a shopper how their day is going. Those moments matter.

Shoppers care about the human factor:
The share of reviews mentioning staff and professionalism has doubled since the start of the year.
We see a drop in positive sentiment for both staff and professionalism in the early days of the pandemic, with a noticeable increase in positive sentiment since. It's likely that positive sentiment dropped and then improved because shoppers needed time to get accustomed to new Covid-19 protocols, and so did retailers.
In fact, we've seen shopper sentiment about retailers' staff improve by 20 percentage points.
We've also seen a 27 percentage point increase in sentiment in the professionalism category.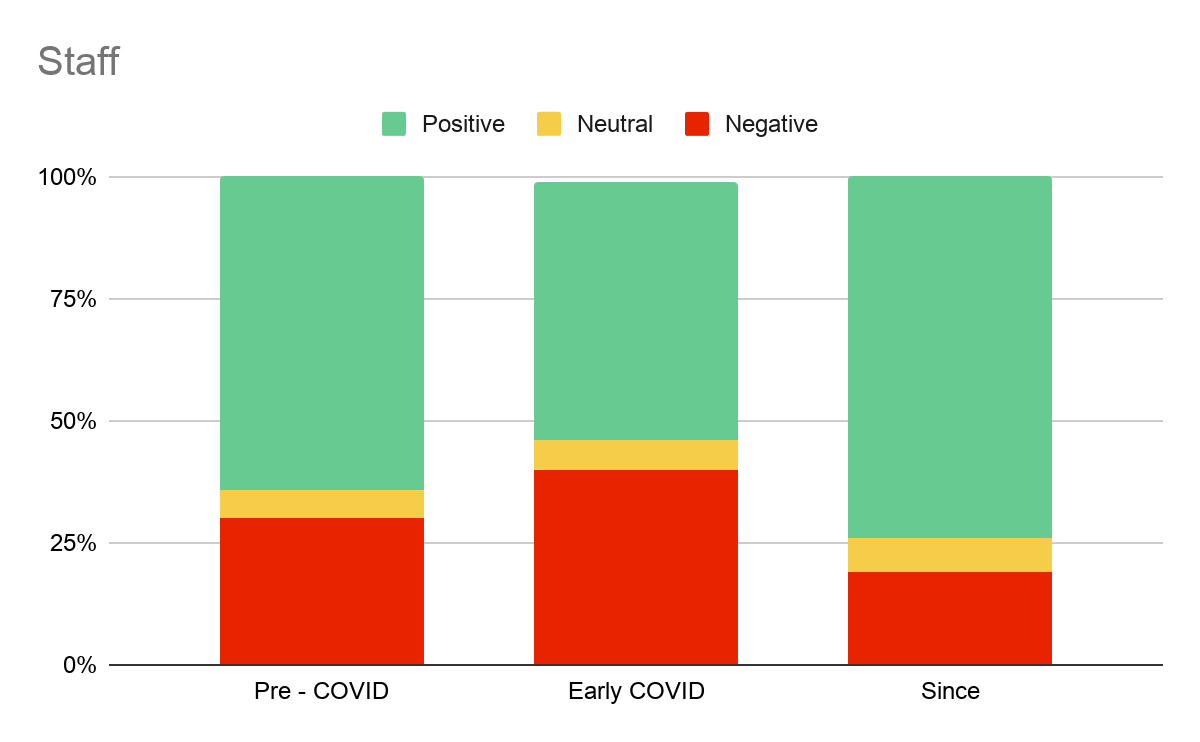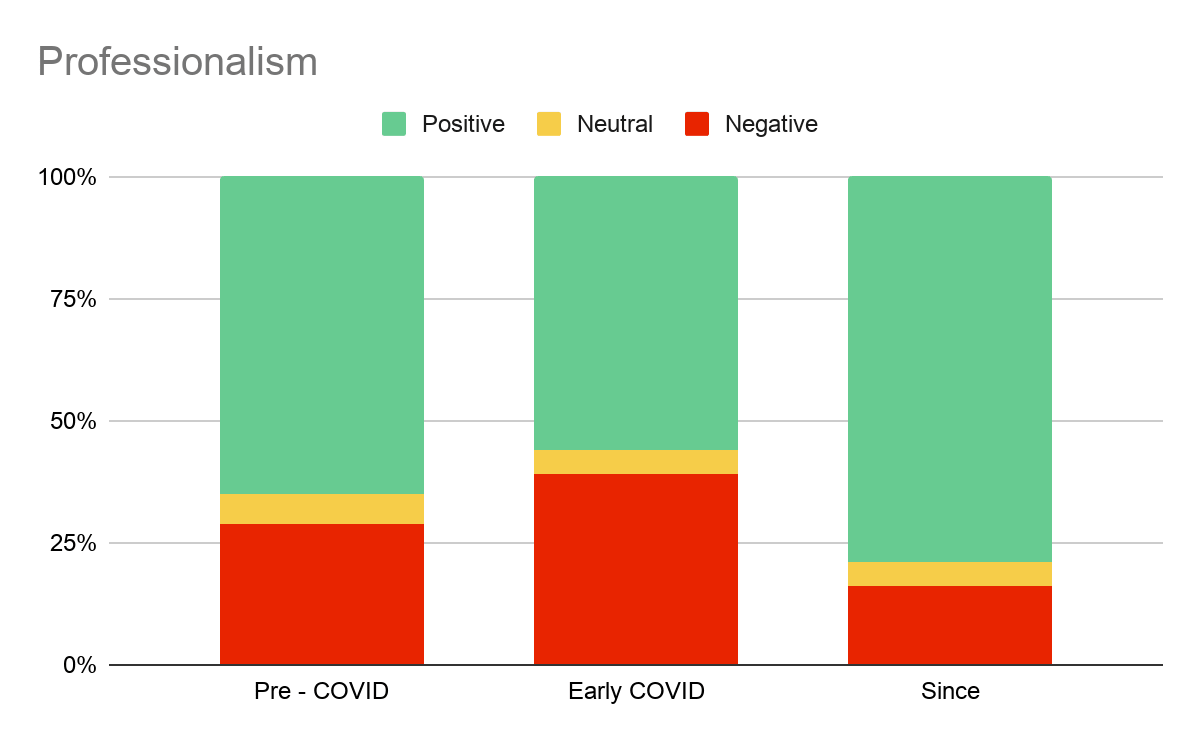 Retailers are getting better preparing their employees to respond to shoppers during the pandemic. And customers are noticing:
Sample positive reviews
"[Employee] is so patient, friendly, and helped me solve my problem. He was great and gave excellent customer service! Thank you so much!!!"
" . . . very helpful and friendly staff. Large produce selection. We felt very SAFE in this store Update: if you don't think management and employees make a difference, then visit this store!!! They are absolutely the BEST."
"[Employee] was very knowledgeable in how we should navigate my situation and she sold me on some very good deals. She was a great help and such a delight. More salespeople should be like her."
"Favorite retail store in NYC. Always clean, easy to navigate, beautifully laid out, and the staff are very helpful while not being intrusive."
Shoppers also notice when employees don't seem attentive to health and safety:
Sample negative reviews
" . . . the self checkout wasn't being wiped down and when I asked why not by the girl operating it I got told 'people just don't feel like waiting for me to do it' . . . she was lazy. Not to mention they are so understaffed right now . . . lines backed up at the service counter and to check out."
"The staff was more worried about talking than ringing our items up."
2.

Plan for Social Distancing Amid Covid-19 Concerns

Shoppers need to feel safe. They need to feel like other shoppers and employees will respect social distancing and wear masks. If they don't, they go somewhere else. These factors will likely become more important during the holiday season, when stores become more crowded.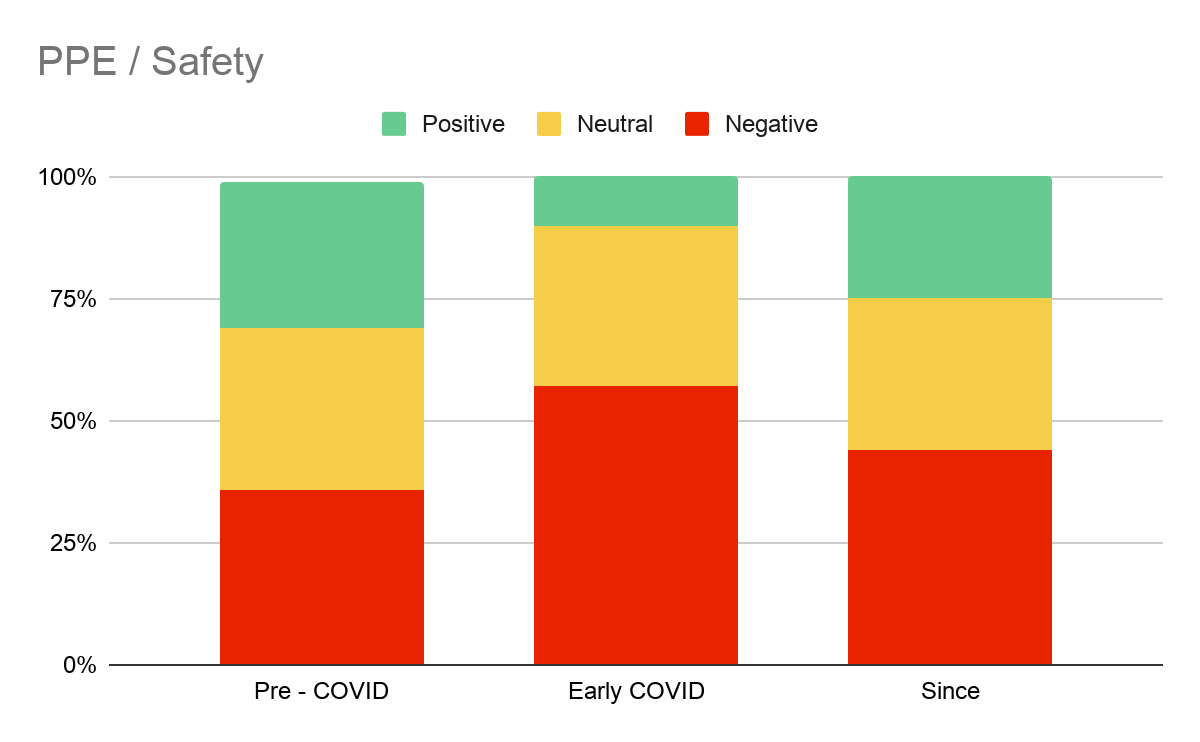 Review mentions of safety and personal protective equipment (PPE) have increased noticeably.
It's no surprise that reviews mentioning safety and personal protective equipment (PPE) have increased noticeably. The share of reviews citing PPE have risen 3.4x since the start of the pandemic. But the sentiment for PPE/safety has been negative throughout the year, showing that retailers need to work harder to ensure their customers' safety. We saw a negative spike in the early days of Covid-19, but the sentiment has since improved by 28 percentage points.
Sample negative reviews
"Overcapacity. Little social distancing. Stickers blocking most aisles."
"Overcrowded, horrible Covid precautions. Employees not wearing masks or wearing them properly. No social distancing was being enforced — could not get out fast enough."
"Not enforcing mask policy. I watched and heard an employee with a questionable covering casually talk with two unmasked customers about how none of them could stand having face coverings that touch their faces. So they think their comfort is more important than all of our health, and apparently this [name of store] agrees."
3.

Keep Your Stores Super Clean

During the pandemic, a store's cleanliness can make or break the shopping experience. No one wants to shop in a store with dusty aisles and dirty bathrooms. On the other hand, sparkling clean stores send a very palpable message: our store cares about you.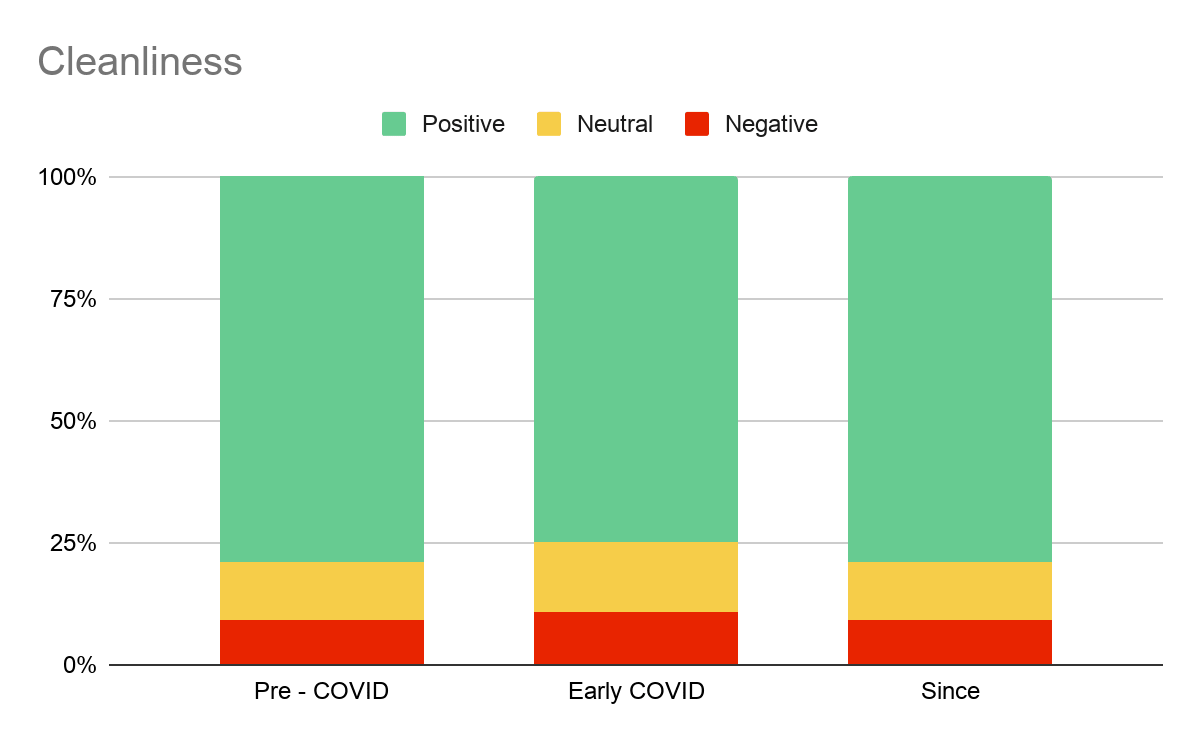 Sample positive reviews
"Convenient and extremely clean!"
" . . .very clean store . . . we felt very SAFE in this store."
Sample negative reviews
"I stopped to use the restroom and get a cold drink, you would think in these essential times and being a pharmaceutical store they would keep the restroom facilities clean. Not at this location!"
4.

Manage Expectations about Your Inventory Supply

2020 marks the first time many shoppers have ever experienced product shortages across the United States. As we've seen in the news media, stress buying during the pandemic has triggered shortages for products ranging from toilet paper to cleaning wipes.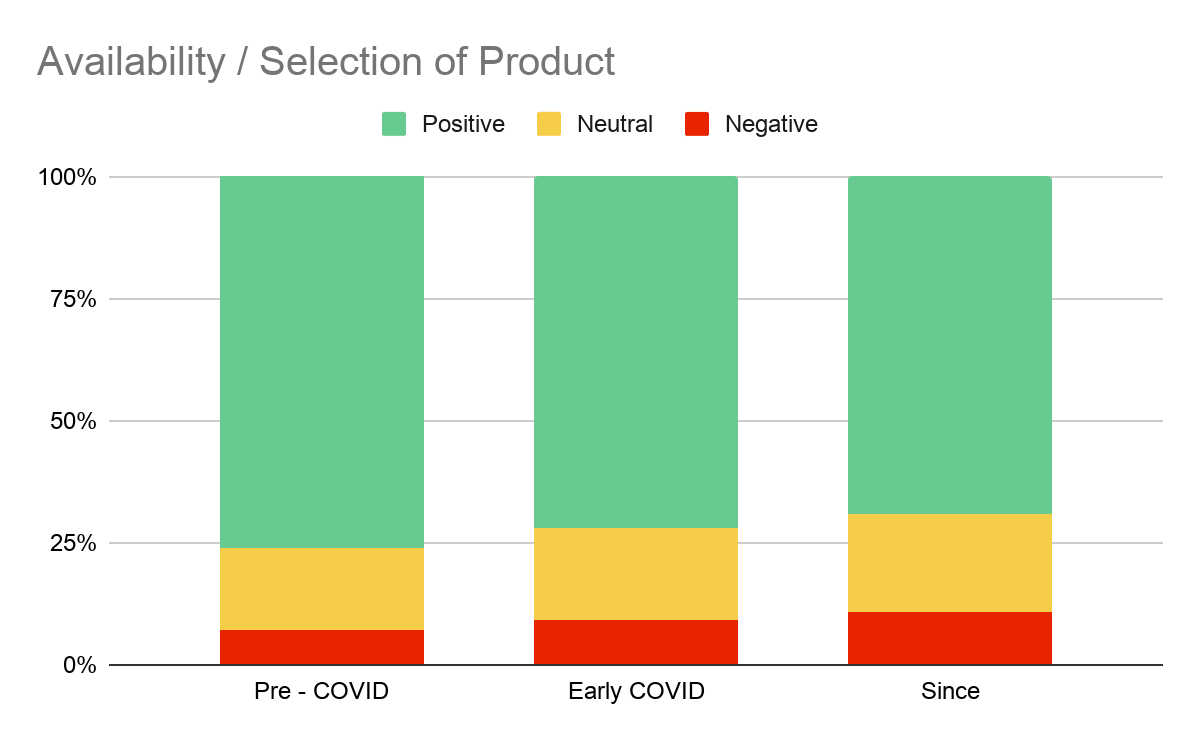 During the pandemic, lack of product availability is more than just an annoyance, it's directly related to a shoppers' safety: if a store lacks a product, it means shoppers will need to either return later or try another store, which increases their exposure.
Here's a sample of shopper feedback:
Sample positive reviews
"Has everything an angler or hunter needs."
"Great selection, wide aisles and great prices."
"Great selection of bulk food at amazing prices."
Sample negative reviews
"Yesterday I went to purchase a Chromebook for my son. The display looked fully stocked, I went and paid for it. But when I went to pick it up they said that the product had been discontinued and they were out of stock. They said that they could give me the display model. I would just have to come back in 30 minutes Tues because it takes time to unlock and make sure that it is disinfected, I came 30 minutes later and they said that they could not find the key for it, I was quite upset and the manager's mindset was well what do you want us to do? thanks [Name of Store] for wasting my time and gas."
"Long lines. Always low inventory . . . Bad customer service. Left on hold one hour."
5.

Manage Pick-up and Delivery Flawlessly

Long before the pandemic, big retailers such as Target and Walmart were investing heavily into services such as curbside pickup and delivery that cater to the on-demand economy. During the pandemic, those retailers benefited when safety-conscious shoppers took advantage of curbside and delivery in droves. And reviewers are talking about their experience: the share of reviews that mention pickup has increased 30x since the start of the year.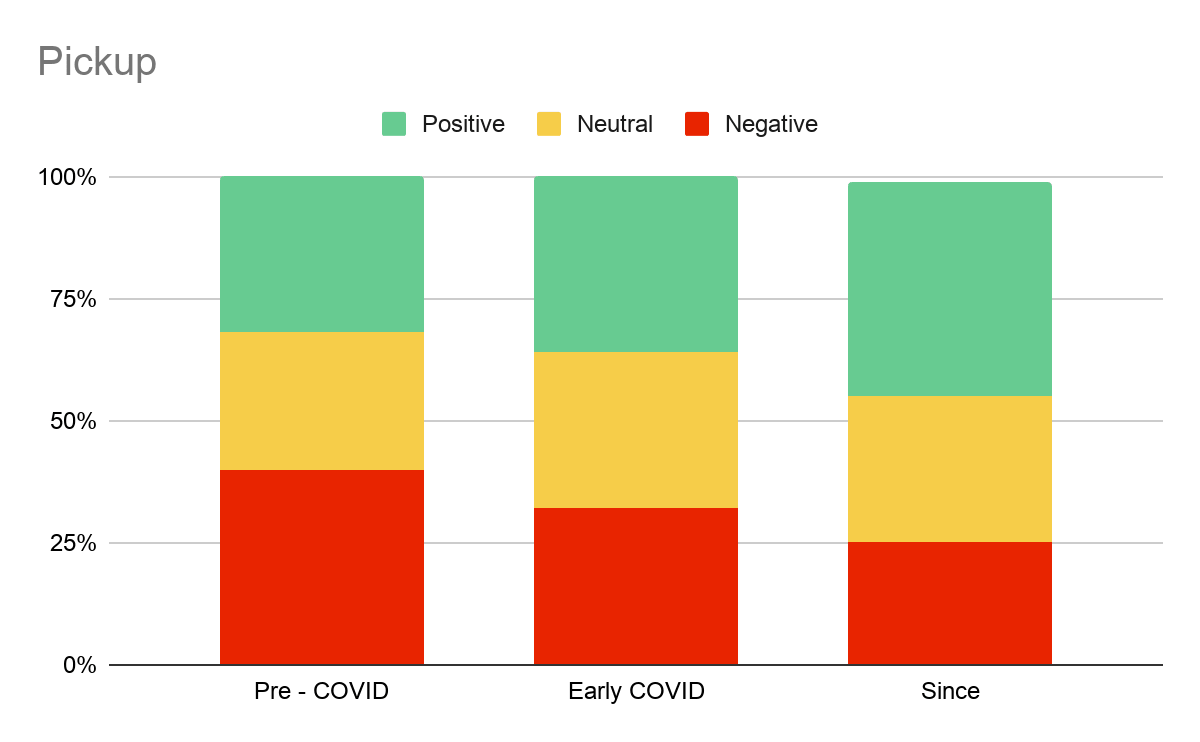 Reviewers feel increasingly positive about the curbside pickup and delivery experiences
Shoppers are now placing more value into pickups and delivery, and retailers are responding. We also see small increases in delivery speed/time, delivery staff, and delivery quality.
Here's a sample of both the praises and criticisms:
Sample positive reviews
"Everyone has always been helpful and they did/continue to do an awesome job of coordinating deliveries and curbside pickup as a result of Covid-19."
"Only had good experiences here. Appreciate their curbside service for the Covid-19 crisis."
Sample negative reviews
"Stop asking me to sign a receipt for curbside pickup. I use curbside pickup to minimize my risk of getting infected by Covid. The order was already paid for online."
"Delivered wrong pieces of furniture that were purchased online. Have to wait another 2 weeks or longer for correct items."
"Products were not available. The products that did come were poorly packaged and arrived in 100's of pieces. I suggest shopping elsewhere."
The Big Picture
Retailers have seen a gradual but steady increase in Reputation Score, our proprietary measure of a business's online reputation, since the beginning of the year.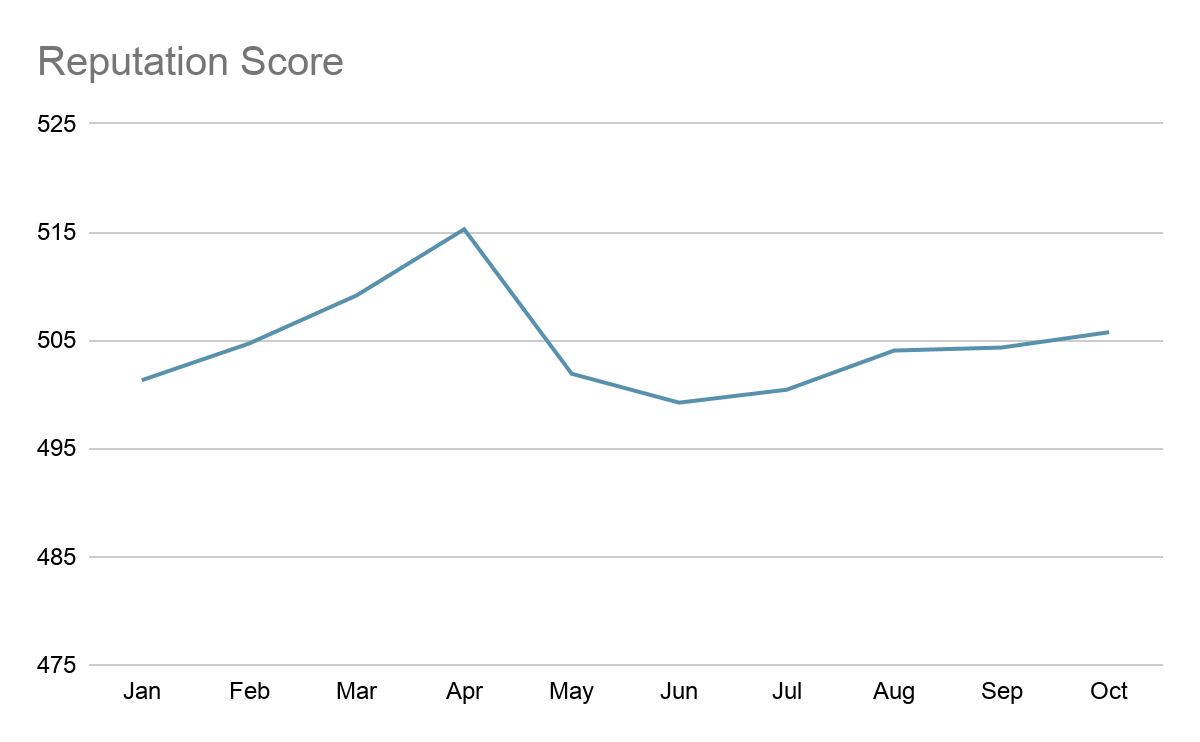 A retailer's Reputation Score takes into account a number of elements such as how positive their reviews are, how many reviews they've accumulated, and how well a retailer responds to reviews. (Read more about the elements of Reputation Score here.)

At the beginning of the pandemic we saw a precipitous drop in Reputation Scores as retailers adapted to new Covid-19 protocols, but we've also seen a slow and steady climb back up for retailers as they continue to address customer feedback and adjust accordingly.
But consumers' positive sentiment about stores' product availability and store cleanliness have not improved as much by comparison.
Overall, retailers are getting better, but they still have room for improvement. Let's take a closer look at what retailers can do to improve their Reputation Scores.
3 Things Retailers Should Do
Managing customer ratings/reviews effectively means more than accumulating positive ratings. Getting positive feedback is important, but retailers need to act on that feedback — by responding to reviews online and using that customer input to improve operations. We refer to this systematic approach as Reputation Experience Management.
1. Respond to customer feedback
Responding to customer reviews or comments builds trust. Being responsive builds trust not only with the person who wrote the review but also with future customers who might be looking at reviews as they evaluate you against your competitors.
Responding to reviews specifically on Google also improves your visibility in organic SEO. Google says ratings/reviews influence how well a site ranks in search.
2. Proactively Request Feedback
Google stresses that "High-quality, positive reviews from your customers will improve your business's visibility and increase the likelihood that a potential customer will visit your location." But retailers need to ask people to review them first. Recent and positive reviews also influence your local ranking on Google.
Requesting reviews systematically improves sentiment by 20%. To be sure, people are going to post negative reviews – but they're going to do that without a retailer asking them. On the other hand, requesting reviews will unleash the feedback of the silent majority: happy customers who visit your store.
3. Learn from feedback
Ratings and reviews give a business a gold mine of crucial customer feedback. They make it possible for a retailer to;
Flag potential vulnerabilities at the store level. Retailers can address potential issues before they become big problems amid a spike in customer traffic. For example, reviewing ratings/reviews may reveal that customers of XYZ Clothing are experiencing unacceptable long lines at the retailer's Dallas location, or messy washrooms in the Milwaukee store. Armed with this data, a retailer can alert those stores for corrective action to be taken.
Transfer best practices from one store to another. Customer feedback reveals where you are performing well, too. Perhaps XYZ Clothing's Houston location is doing an exceptional job managing its curbside pickup. With that insight, an operations manager might want to connect the Houston and Dallas stores to figure out a solution. By identifying both the problems and bright spots, customer feedback opens the door for operational improvement.
Responding to reviews by improving a store business creates a virtuous cycle: a better customer experience leads to more positive reviews, which leads to improved visibility online.
About Reputation.com
Reputation.com pioneered the online reputation management (ORM) category and now extends its leadership position to include its award-winning Reputation Experience Management (RXM) platform that consistently delivers innovative, customer-driven solutions. The SaaS-based platform manages tens of millions of reviews and interactions across hundreds of thousands of customer touchpoints. The patented algorithms behind Reputation ScoreX are based on more than a decade of deep machine learning and data science expertise, providing businesses with a reliable index of brand performance that they can use to make targeted improvements. Reputation.com has over 250 integration partners, including Google, Facebook, Salesforce, J.D. Power, Amazon and Web.com, and helps businesses of all sizes across industries Get Found, Get Chosen and Get Better.
Editorial and Design Team
John Bergstroem, Customer Insights Analyst
([email protected])
Rebecca Biestman, CMO ([email protected])
David Deal, Writer and Editor ([email protected])
Sabrina Esposito, Content Strategist ([email protected])
Jennie Held, Head of Content, Brand, and Digital ([email protected])
Gabi Klausner-Abrahamson, Lead Designer
([email protected])
Michael Tarter, Director, Enterprise Retail Strategy
([email protected])
Topic: Through Leadership
Want more insights on
how to grow your business

with the only platform that brings together online reputation management and gives you the tools to take command of your customer experience?