The Covid-19 Vaccine Is Here — What's Next for Healthcare Leaders?
After the most difficult year for healthcare in modern history, healthcare leaders are rejoicing at the availability of the Covid-19 vaccine. At the same time, however, they are faced with a new challenge: how to manage distribution of the vaccine to healthcare workers and within their communities. The announcement of vaccine approval comes with questions from healthcare consumers:
When will I be able to get the vaccine?
How does the vaccine work?
Where can I find more resources on the vaccine?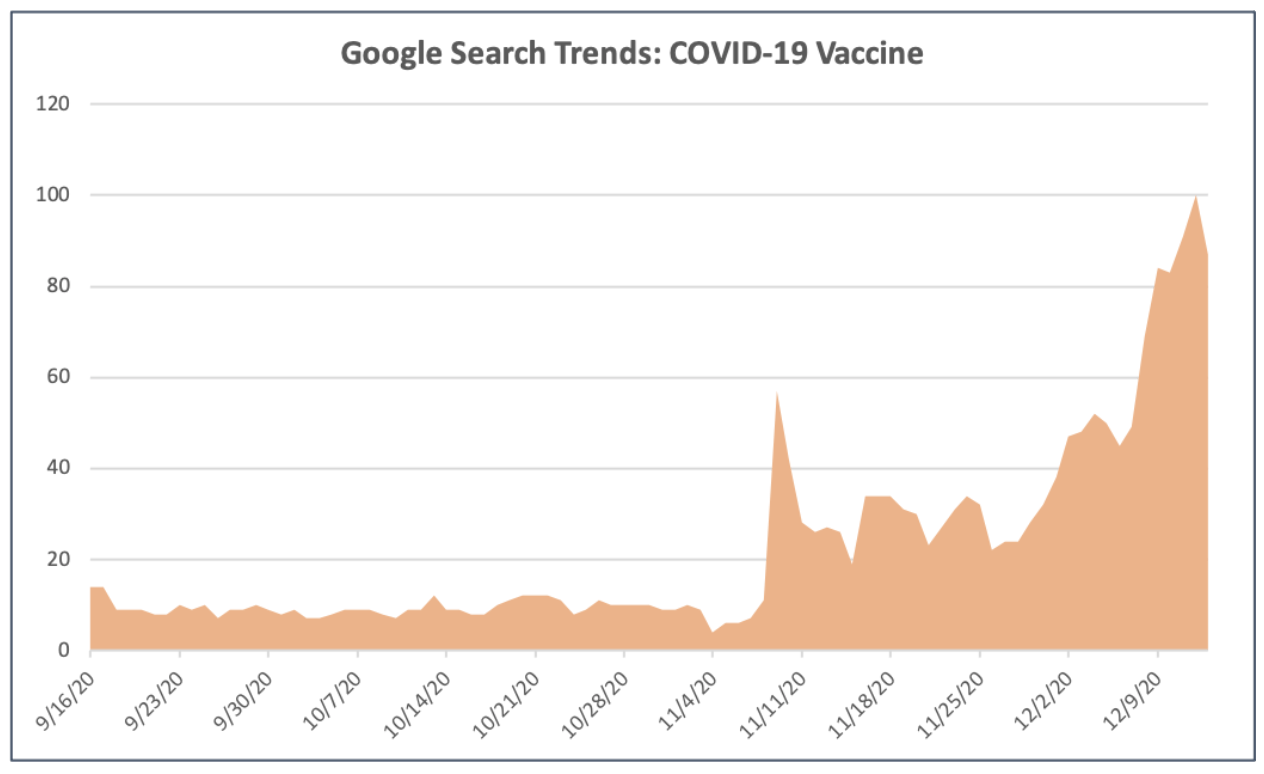 Search activity for "COVID-19 Vaccine" is up 167% since November. (Source: Google Trends)
Patients are keen to access any information about the vaccine making your website, social media and Google My Business listings a vital source of information. Here are a few tips for how to optimize these channels.
Online Channels: Your Front Line to the Public
The first trend some healthcare providers observed right away was a spike in calls to the call center. The deluge of inquiries meant healthcare organizations needed to quickly provide accurate information to those answering the phone, so they are able to provide a consistent message to the public.
One way healthcare organizations are working to reduce the strain of call volume is to provide timely, proactive updates online.
Publish vaccine-related information via the Posts feature on Google My Business. Not only are Posts a way to share announcements, they also help improve your listing's visibility in Google Search.
Combat misinformation on social channels. While caregivers have been fighting Covid, healthcare communicators have been battling the spread of misinformation online. Be diligent with your responses to the public, and don't hesitate to block users who begin spamming your page with anti-vaccination comments.
Monitor online chatter such as reviews and social media comments for consumer sentiment and topics. By listening to what your patients are saying, you can identify the areas of concern or confusion. Armed with this understanding of how patients are feeling, the marketing team can develop messaging and social media content to help combat fear and correct any misinformation.
Q&A: A Valuable Vaccine Communication Tool
Publishing frequently asked questions about the vaccine and availability on your Google My Business listings and websites makes it easy for consumers to find this information when they are looking for it.
The Q&A feature on Google My Business was built to manage frequently asked questions at scale. In addition to responding to questions from the public, you can use the Q&A section to proactively share questions and answers you anticipate people may ask. The Q&A format is optimized for search because Google crawls the web for answers to serve to users asking questions. Work with your clinical and legal leaders to ensure your answers are carefully reviewed and vetted, then published simultaneously across your website, Google listings, and social media.
Consumers are searching for vaccine information online, and they want to know where and how to get it. Bring all of your Covid-19 related information and access points into the Google Knowledge Panel via your Google My Business listings. A patient can easily get answers, schedule an appointment, or start a virtual visit right from the Google search results.
Watch Google My Business for New Features
Google has released several new features to help healthcare organizations respond to Covid-19, including new Google My Business attributes for healthcare locations and providers to update operational and safety protocols. As of this writing, we expect Google My Business to respond to the vaccine availability by releasing a feature to help healthcare organizations provide updates on the availability of the Covid-19 vaccine. We will continue to provide the latest developments right here on the blog.
Reputation.com Can Help
Covid-19 has put healthcare in a crisis and has changed the way consumers access care. Is your organization ready for the future of patient experience? Reputation.com offers a complete reputation and patient experience platform – enabling your locations and providers to rank higher in online search, acquire more new patients, and analyze feedback data to make operational improvements. Contact us for a demo today.
Topic: Through Leadership
Want more insights on
how to grow your business

with the only platform that brings together online reputation management and gives you the tools to take command of your customer experience?