The Key To Online Success For Estate Agents
Paul Modaley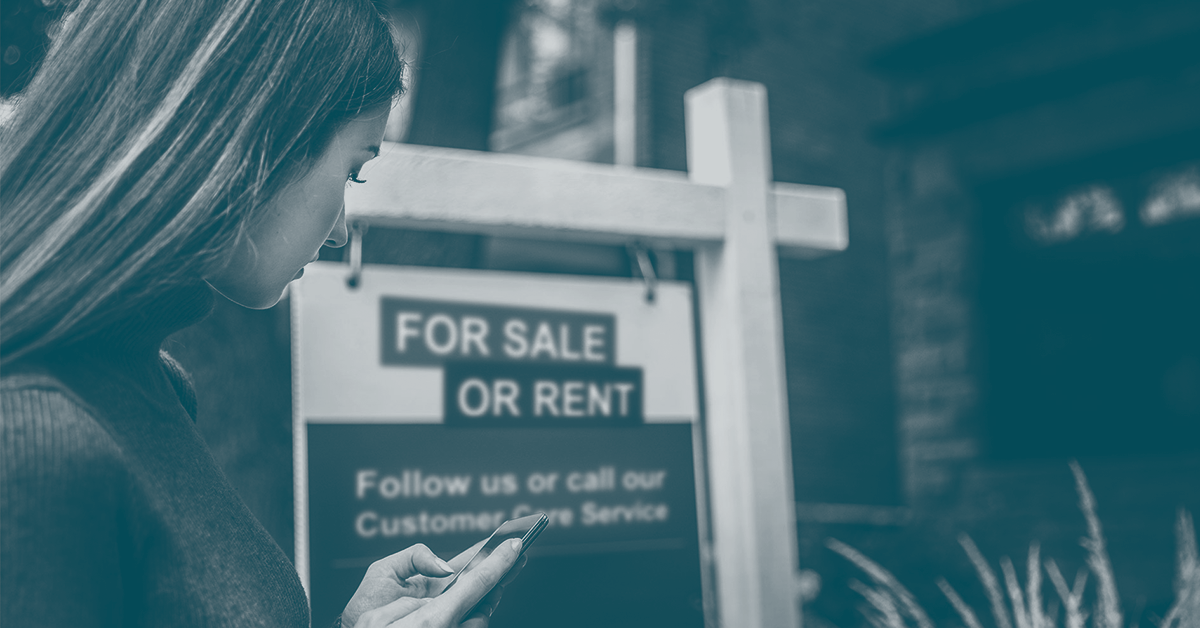 Successive lockdowns ravaged many industries, but the UK's real estate market fared comparatively well. As a result, online competition between estate agents remains as fierce as ever. 
The stamp duty suspension, which was announced in the Spring Budget and lasted until the end of June,  was a key driver in real estate market activity as people who were dissatisfied with their homes during the lockdowns were incentivised to move amidst lower costs.  
With real estate competition intensifying and with opportunities for big profits, savvy estate agents ought to be scrambling to stand out online to ensure they get found and chosen by prospective property buyers.
The Real Estate Customer Journey Starts With Google
Getting ahead in the real estate business demands a firm digital foundation and a solid online presence and reputation, which almost always starts at Google. 
Currently, Google dominates the market, with 92.47% of all consumers starting their online search for goods and services at the online search giant. Thus, real estate agents and real estate businesses without a significant presence on Google are unlikely to be found by customers. 
Your Digital Front Door
The most successful businesses have optimised their digital front doors and will continue to do so far into the future. What does this mean?
The term digital front door encompasses many things, but a presence in Google's local 3-pack matters most. Savvy companies aim to appear in Google's local 3-pack – the listings of three businesses that appear in the search results when using search terms like "near me" or "near [Location]."
It is critical to rank in Google whenever a person searches "estate agent near me" or "estate agent [Location]". After all, our research through Moz.com indicates that the potential volume of monthly searches for these terms ranges from 11,501 – 30,300. 
Local Search Presence
Amongst other factors, your local Google presence is determined by review volume (the number of reviews received), review response rate (how frequently a company responds to customer reviews), and the accuracy of your business listings, including contact information, opening hours and services. 
For instance, the listing displayed below features several Google reviews, key information for the particular location. Also, representatives from the agency have taken the time to respond to customer reviews.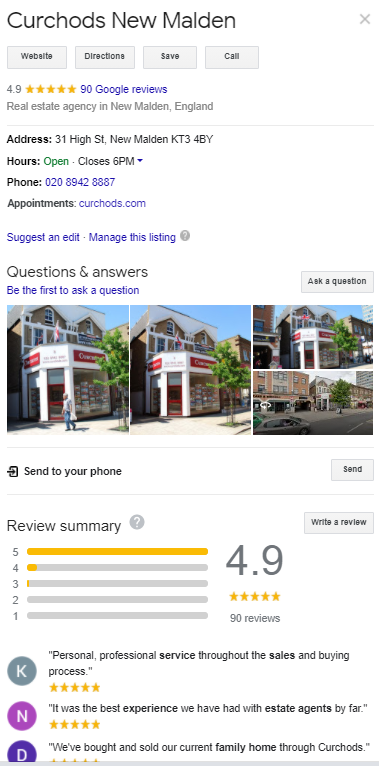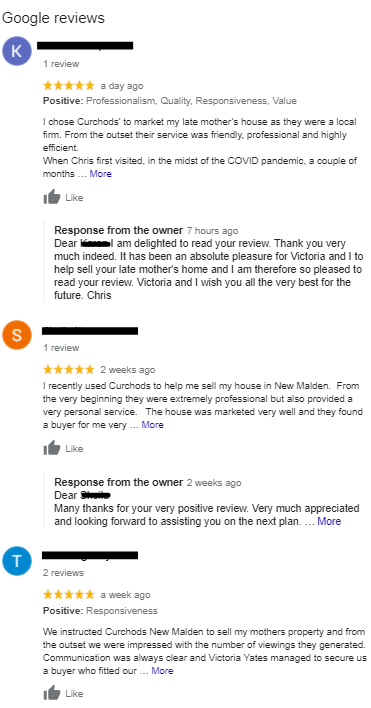 The above listing possesses all the features of effective Google My Business (GMB) management. Thus, Google ranks it near the top of its local results. 
How To Get Into The Local 3-Pack
Securing your spot in the local 3-pack doesn't require any technical skills, but it will demand consistent effort and some knowledge of how Google ranks GMB listings on its Search Engine Results Page (SERP). 
Fortunately, Google makes no secret about how businesses can better improve local rankings. Your efforts should generally go towards requesting reviews to build review volume, responding to customer reviews, and regularly updating your business information to ensure accuracy. 
If this process sounds easy, it is crucial to understand that doing it at scale is a significant challenge for many businesses unless they have the right tools for the job. More on this later.
Why Online Reputation Matters For Estate Agents
An excellent online reputation, much of which comprises positive reviews and well-maintained listings, is a key driver in how Google ranks businesses in local search results.
There are real business implications of not ranking in the local 3-pack – without a presence there, the chances customers will find and choose you when searching for "estate agent near me" are drastically reduced. Consider the following statistics:
Why does all this matter? It all matters because Google prioritises taking action from the GMB knowledge panel and looks favourably upon increases in listing views, resulting in higher clicks-to-call, clicks-to-website, clicks-for-directions, ultimately increasing lead volume per branch.  
Moreover, all this will impact where you appear in local search results and significantly reduce your cost per acquisition whilst growing lead volume per branch.
Google Is The Door To Real Estate Success
Your online reputation and your presence on Google, particularly within the local 3-pack, is critical, and it represents the key to prosperity for estate agents operating locally and nationally. 
The local 3-pack is an integral part of your customers' journey. Being seen in the local 3-pack establishes trust, and it will not only result in clicks to your listing page or website, but it will also generate all-important foot traffic at your estate agency's branches.
Without a presence on Google through accurate business listings and a substantial review volume, your estate agency won't be seen by customers. If it's not seen, it won't be chosen. Not being found and not being chosen impacts your bottom line, especially during the present time when stamp duty is suspended, and real estate companies can reap the benefits. 
Michael Nettleton, Chairman of Nock Deighton, fully supports this claim and realises the importance of online reputation in the property industry:
"Valuations and market appraisal appointments are the lifeblood of any agency. To quote Tom Panos, 'There are no blind dates in real estate'. If your online reputation doesn't support you, you risk never getting the call in the first instance."
The Key To Success On Google
Increasing review volume, responding to reviews at scale, and maintaining accurate business listings across multiple locations can be demanding. Still, it's a lot easier with the right tools at your fingertips.
Reputation offers companies in various industries, including real estate companies such as Curchods, the tools to secure a spot within the hallowed local 3-pack. 
Curchod's Marketing Director, Graeme Wadhams, cites Reputation's platform as a tool that "really makes a difference in our industry":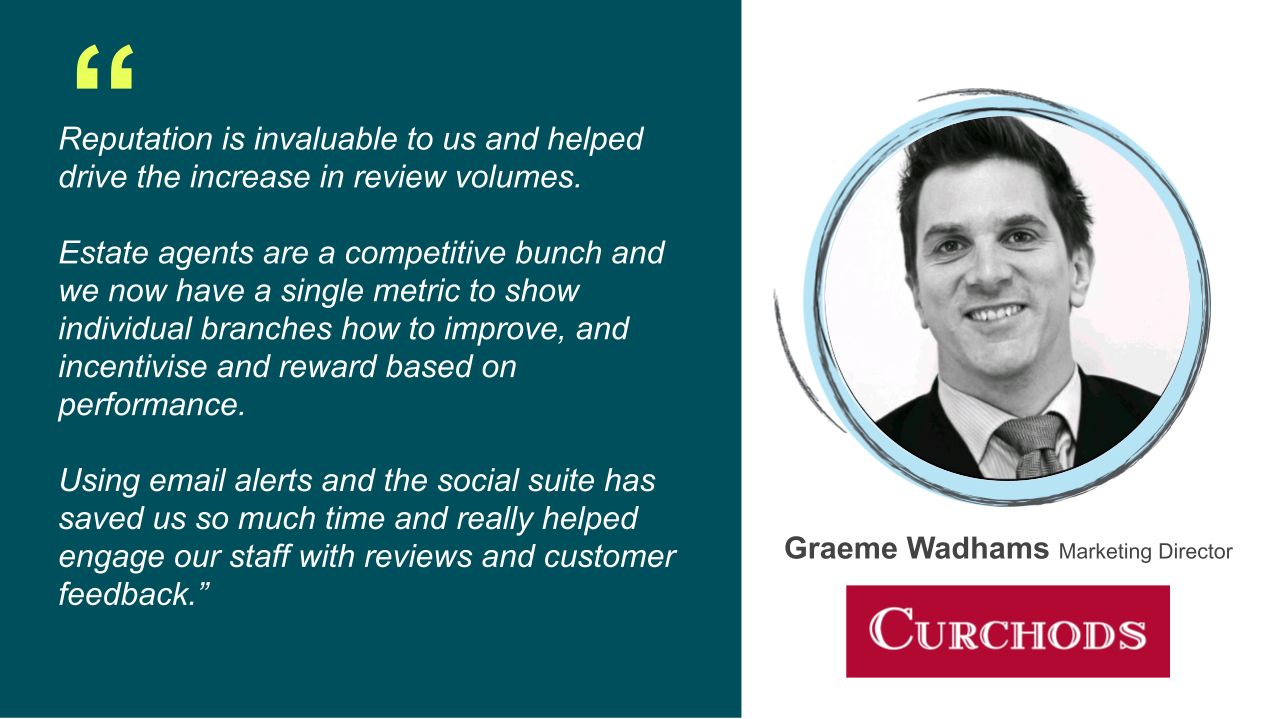 Want to follow in the footsteps of Curchods, improve your online reputation for each branch, and increase customer acquisition? Check out our solutions pages, and our product pages to find out more today.
Alternatively, to arrange a call with our solution specialists who can assess your branches' online reputation, please click the 'Get a Demo' button above.