How Healthcare Systems Are Using Google Posts During the Pandemic
Adam Dorfman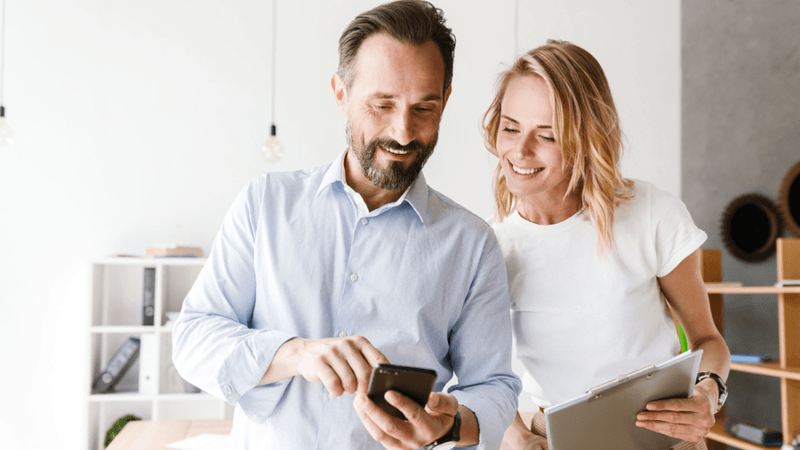 The COVID-19 pandemic has cast a spotlight on the importance of Google Posts. Businesses across a number of industries have worked with Reputation to keep people informed of important COVID-19-related information with this feature. Let's take a closer look at how healthcare systems have been applying Google Posts.
About Google Posts
The Google Posts feature makes it possible for organizations to share content on their Google My Business (GMB) listings such as special events, changes in hours or the opening of a new location. The content appears in an organization's knowledge panel – the information about a business that appears in a box alongside a search result, both in Google and Google Maps.
Businesses are using Google Posts to provide COVID-19 related updates, as discussed on Google's support page. To make sure COVID-19 content is more noticeable to your customers, Google has created the COVID-19 Post type. This new post type makes it easier to update COVID-19 content and display it more prominently in Google Search.
How Health Systems Use Google Posts
A number of healthcare providers have used Google Posts to share engaging content with prominent visuals and skillful copy. The following are some examples of how health systems are using Google posts.
Help People Manage Their Health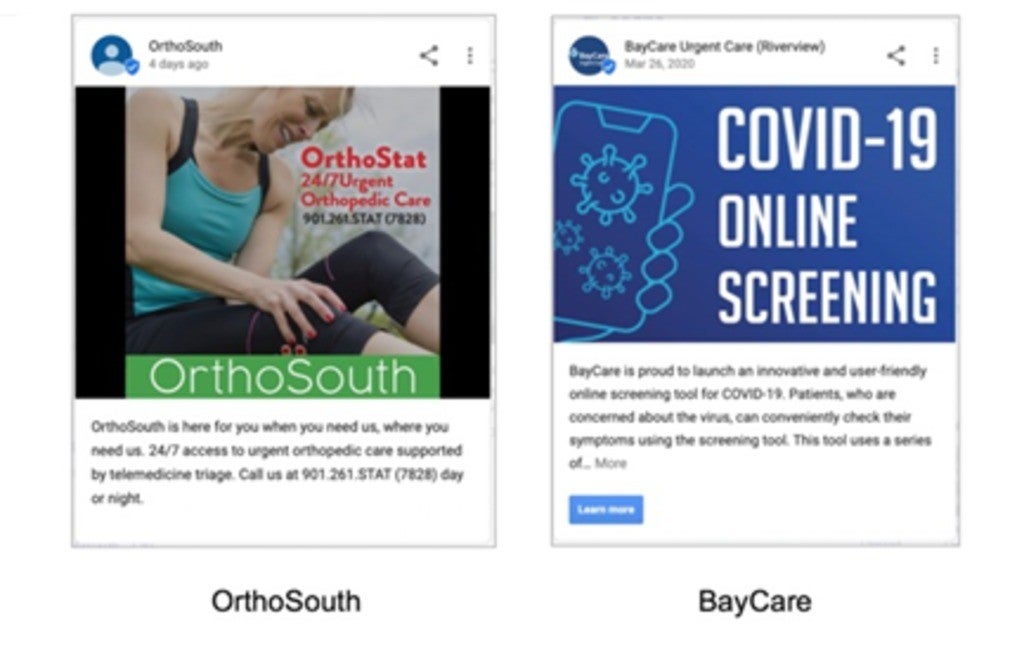 As providers have learned more about its symptoms, they've used Google Posts to share information about how people can screen themselves if they are concerned they or a loved one might have COVID-19 symptoms. Helping people test for symptoms themselves means fewer queries to providers who already have their hands full caring for confirmed COVID-19 cases.
As the BayCare example above shows, organizations and physicians alike may use Google Posts so long as they have GMB listings.
And people continue to have medical needs beyond COVID-19. The OrthoSouth example shows how a provider can and should post information about health care needs more generally.
Provide Operational Updates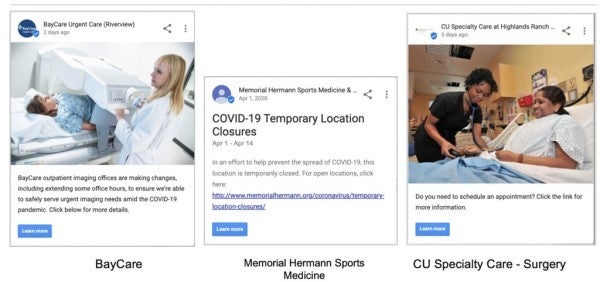 Google Posts are a handy first line of communication when healthcare providers need to share information about updated hours and temporary closures. The CU Specialty Care example also shows how a healthcare provider can use a Google Post to help patients get easier access to services with information about how to make an appointment. Note the use of images to complement the content in most cases.
Using Google Posts to announce temporary closures is important, because doing so will decrease the chances that Google mistakes an inactive GMB listing for a permanently closed location.
Uplift and Engage with Patients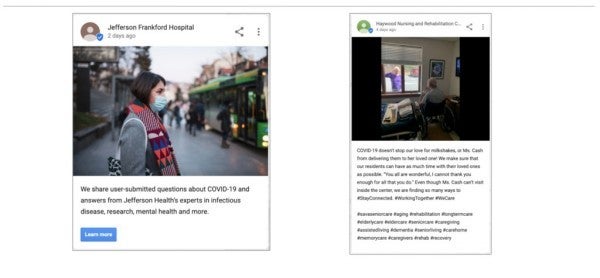 Google Posts also make it possible for healthcare providers to interact with patients and uplift them. Jefferson Frankford Hospital, for example, uses Google Posts to answer user-submitted questions. Doing so builds the organization's visibility as a trusted authority and gives the provider a resource to point patients to for information on commonly asked questions. On the other hand, the Haywood Nursing and Rehabilitation example shows that Google Posts can be a source of storytelling, as in the example of showing the creative ways loved ones stay in touch with patients in the era of social distancing.
At Reputation, we urge healthcare providers to capitalize on this feature to be responsive while freeing up your own resources to focus on treating those in need.
We have written extensively about Google Posts. For more information: