Google My Business Traffic and Reviews Continue to Return in June
Adam Dorfman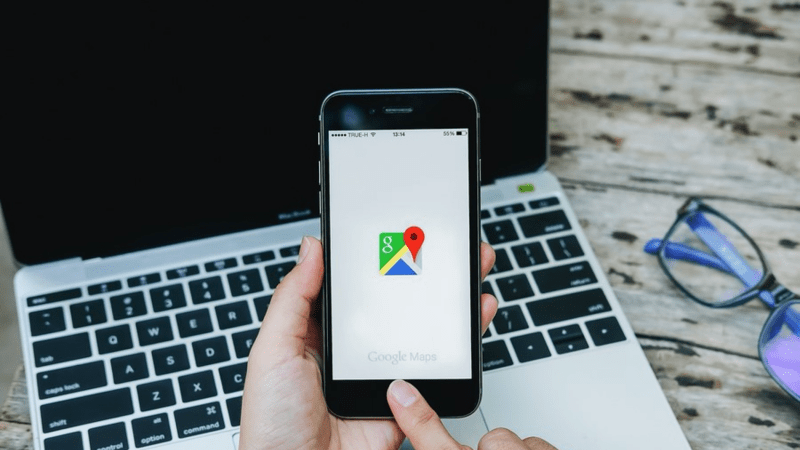 Traffic and reviews are returning to Google My Business (GMB) listings, according to our latest Reputation data analysis. This finding is important because GMB traffic indicates purchase intent. In the retail industry alone, GMB views and clicks rose 25 percent in May, and the retail industry experienced a 17.7 percent increase in sales during the same period. As traffic and review volume increase, it's critical that businesses carefully monitor their GMB listings.
GMB Traffic Continues to Rebound
Traffic is returning to GMB listings following a drop during shelter-in-place mandates. Clicks to take actions such as getting driving directions and visiting websites are rebounding much faster than views. This means people are likely using your GMB listings with an intent to do business with you, but they're "exploring" less. That said, both clicks and views are up 10 percent over the past two weeks on average.
Retail views and clicks rose 25 percent month over month, and clicks are almost at pre-COVID-19 levels. The data is especially important because GMB views and clicks indicate purchase intent. The retail industry experienced a 17.7 percent increase in sales volume for May according to the U.S. Census bureau, a dramatic improvement over the 14.7 percent drop experienced in April.
Related: How to Support the LGBTQ+ Community on Your Google My Business Listing
Clicks on automotive listings are well above pre-COVID-19 levels. Clicks on restaurant listings are also surprisingly above pre-COVID-19 levels. These findings indicate having a strong online presence now is critical.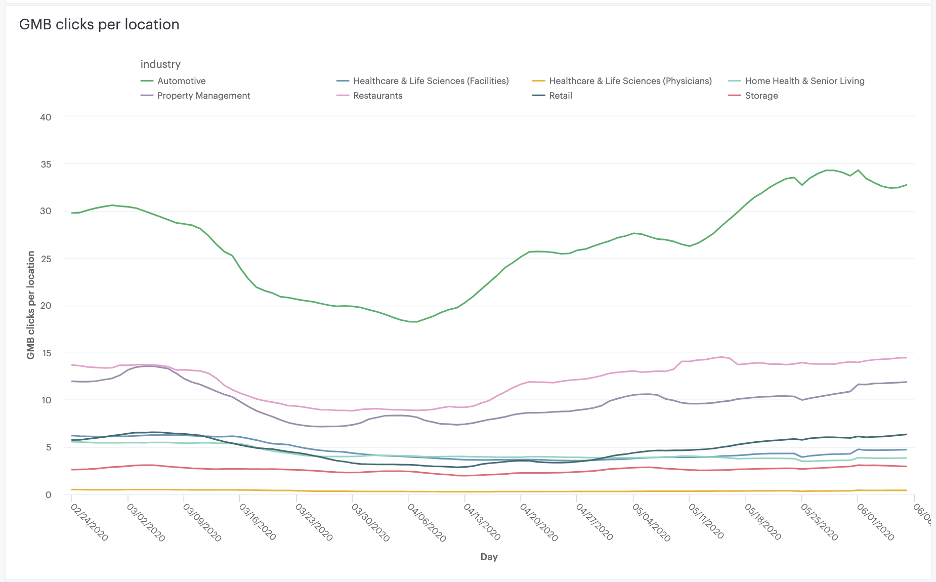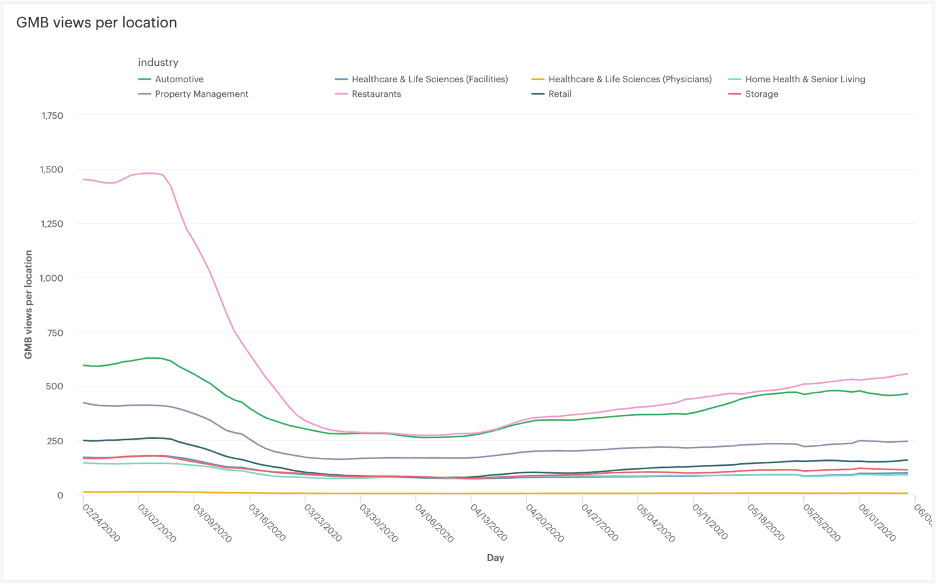 Reviews Continue to Return, Too
Google reviews for Auto dealers are at 93% of pre-COVID levels (home services at 112%)
Many other industries are slowly trending back as well (see below).
Google is still not publishing reviews for most Healthcare locations and providers. Google has still only brought back reviews for <10% of locations in healthcare so far. (Update 6/18: since original publication, Google has now begun publishing healthcare reviews at scale. More details to come.)
| | | |
| --- | --- | --- |
| Industry (U.S.) | Google reviews last 14 Days v.   Pre-COVID-19 | Last 28 Days v. Pre-COVID-19 |
| Home Services | 112% | 107% |
| Auto dealerships | 93% | 92% |
| Moving & Storage | 76% | 67% |
| Retail | 67% | 62% |
| Properties/Apartments | 66% | 63% |
| Auto Rental | 66% | 51% |
| Restaurants (Fast Food) | 62% | 55% |
| Travel & Hospitality | 50% | 46% |
| Healthcare | 4% | 3% |
What You Should Do
Make sure you respond to reviews. Doing so demonstrates your commitment to your customers – and also boosts your visibility on Google.
Keep your GMB listings up to date. If you are re-opening your brick-and-mortar location, have you notified your customers on your GMB listing? Are your hours up to date?
We'll continue to share insights based on data-rich insights created by the Reputation.com Data Science team. Contact Reputation with any questions.
Keep Reading: How Google Is Developing Business Messages