New Data Shows Why It Pays for Auto Dealers to Publish Multiple Google My Business Listings
Reputation

Google encourages automotive dealers to publish multiple Google My Business (GMB) listings per location: conceivably one for sales, one for service and one for parts, depending on how extensive a dealer's operations are. That's because separate GMB listings make each department at a single location more visible for all the ways people might search for something they need from a dealer. At Reputation.com, we have the data to prove the point.
Do Multiple Listings for an Auto Dealer Improve SEO Performance?
The idea behind having multiple listings per location is to align a dealer's sales, service and parts with the different ways people search. A GMB listing for a service department containing its own contact information and keyword-aligned content (e.g., "oil changes" or "transmission service"), will improve the service department's visibility for local searches (e.g., "oil change near me" or "transmission repair near me"). And a GMB listing for sales will make the sales department more visible when people are searching for cars to buy rather than service.
At Reputation.com, we decided to test the effectiveness of having multiple listings for automotive dealers' locations. We manage GMB listings for many dealers as part of the services our automotive practice provides. For one of our clients, we manage listings for approximately 1,000 locations, each with a single listing at the dealer level. Our client wanted to know whether having three listings per location – for sales, service and parts – would indeed result in a measurable increase in search engine optimization (SEO) performance.
To answer the question, in December 2019, we chose 20 locations to pilot a test. For those 20 locations, we created separate listings for sales, service and parts. For a period of five months, we compared SEO results for those locations versus the rest of the client's locations. Here's what we found:
The detailed results look like this: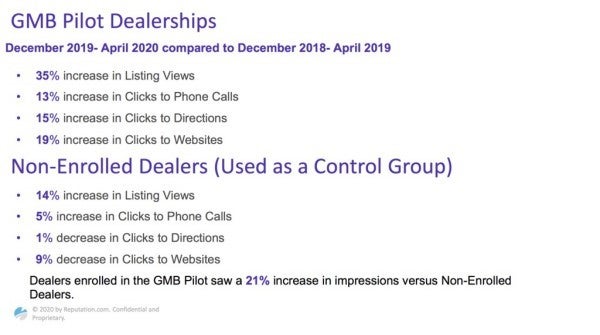 The pilot group outperformed the non-enrolled dealers in every conceivable category, including clicks, which are a measure of purchase intent.
Now more than ever, auto dealers need to pull every possible lever to gain customers. According to the LSA, 76% of new and used car buyers conduct a search online before buying a car. Being findable via your GMB listing is crucial. Your GMB listing is your biggest local search ranking signal, according to Moz. Having multiple listings increases your visibility even more.
Optimize Content Effectively
It's important to publish separate GMB listings with descriptive content optimized for each kind of search that's relevant to a specific department. As all your departments might reside under one roof, even though they cater to different customers, they'll likely have similar (or even the same) location data, such as addresses and even phone numbers. GMB listings that look too similar will confuse Google and create duplicate listing problems.
For instance, your service department's GMB page should use keywords that align with the repairs you offer, especially if those services focus on a specific manufacturer. A description might read, "We offer the most experienced and complete Toyota repairs at competitive prices. Our services include transmission repair, complete tune-ups, oil changes, tire rotation, alignments and tire service."
The more descriptive and distinct the content, the more likely you'll help someone who needs service and avoid confusing Google if your sales department resides at the same location.
In addition, mind your location data, especially the all-important hours of operation. Service and parts might be different from sales. You don't want someone assuming they're the same just because they share a location.
Maintaining separate GMB listings requires more effort and finesse, but the reward of attracting the right customer to the right department is more than worth it. Don't leave business on the table — take time to expand your GMB strategy.