Employee Spotlight: Art Sangurai, Engineering Manager, Social Suite
Reputation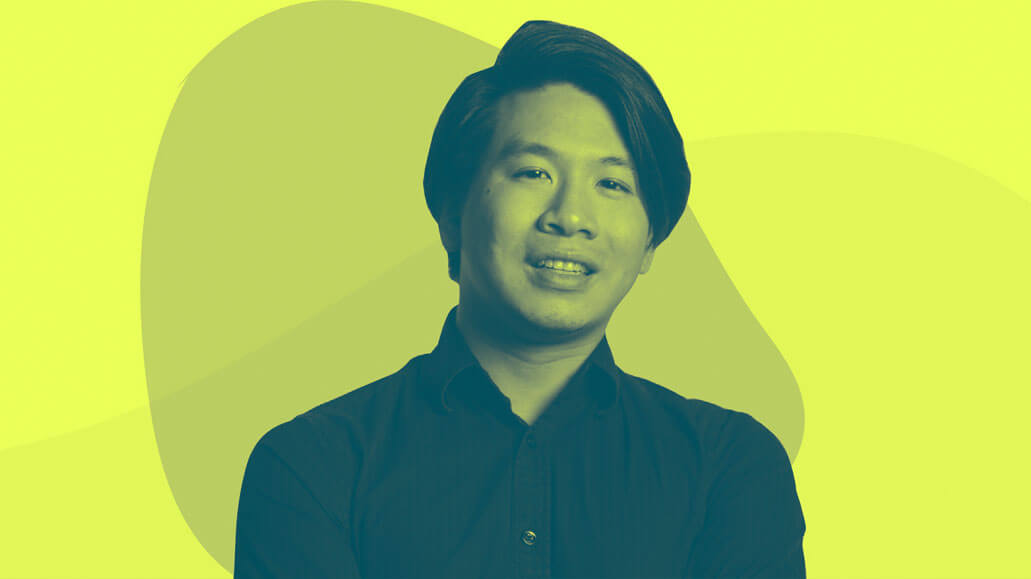 Art Sangurai, Engineering Manager for Reputation.com's Social Suite, isn't your typical developer. The son of an artist, he started out as a graphic designer and launched his developer career somewhat accidentally — and under fire. After years of honing his UI skills in companies such as Cars.com,
Higi
and SIM Partners, he joined Reputation.com in 2018 via acquisition — and is now an instrumental force in ensuring the continued success of our Social Suite.
We recently spoke with Art about his work at Reputation.com, how he became a developer and what he loves about his job. He also disclosed some of his little-known talents, and the outcome of a workplace dance-off.
Have you always worked as a software developer?
Art: No, I actually began my professional life as a graphic designer. In college, I was a business major, but I was already working as a graphic designer — my dad was an architect and a designer. He was very artistic — that's why he named me "Art." I grew up around him painting, drawing and sculpting. There were a lot of wood sculptures in my house! I learned Photoshop and Illustrator — all the design applications graphic designers use. I was just doing it for fun until I was hired by my high school to redesign their website, and it just kind of stuck. I started freelancing straight out of high school and continued doing that kind of work for about 10 years. 
What made you transition over to software development?
Art: As I was doing graphic design work, sometimes it would require some coding skills. So I picked up HTML, CSS and JavaScript along the way. Years later, someone from Higi called me and asked if I'd work for them as a developer. I went through the interview process and explained I didn't consider myself a developer, but they hired me as one anyway. I thought, "That's not what I signed up for!" But that's what they needed. It was a small startup, so everyone had a ton of responsibilities, and I had to just learn as I went along. So, I read a lot of books and had a lot of sleepless nights because we had really aggressive timelines and there was so much for me to learn. 
Where were you working before reputation?
Art: I joined SIM partners in 2013 as a senior developer. At the time, the product I was hired to build was a Find-an-Agent app for Allstate's online marketing initiative. I worked closely with Allstate's team and their design agency. As that project progressed, we realized that there was an opportunity to adapt the product for healthcare. A Reputatation.com healthcare client wanted to use the app as a Find-a-Doctor tool. There was a lot of overlap with our existing app, and we took a step back and realized there was an opportunity to productize the app for use in a number of industries. When we launched the first version in the summer of 2014, it was a big success. We would supply the code, which clients could embed anywhere, like in a website. 
But selling pieces of code wasn't scalable and often presented integration issues. We switched over to a SaaS model that's really similar to Reputation.com's model, and that made the acquisition by Reputation.com in 2018 easier. 
What's your specialty in terms of software development?
Art: I definitely enjoy doing more front-end development. Partly thanks to my graphic design background, my strengths have always been in user experience and user workflows, and in being an advocate for the user. I'm a very big proponent of building software with the understanding that it's not for other computers or developers — it's for users. If your software has a non-technical end user, you have to really understand what they're going through, and you have to empathize with what they will experience. If there's something that's confusing or if the app is hard to use, it won't be a success.  
If you can get people to love your product, you'll create stickiness, and people will start advocating for it and for your brand. Instead of thinking, "Yeah, it's a tool and I have to use it to do my job," they'll think "I love my job and part of the reason is because the tool I'm using to do it is so useful and easy to use." That's what I aim to bring to the table — I always try to empathize with the user. 
Reputation.com is a very data-driven organization. We're working with hundreds of thousands of locations at a time, across hundreds of customers. UI isn't always a focus for enterprise B2B products, but in actuality, it's no less important. I firmly believe that, especially for a product like Reputation.com's Social Suite. If you're a social media manager and you're using this application every day, we need to make sure your experience is clear, concise and enjoyable. 
What do you like best about your job?
Art: First, it's an amazing privilege to work and learn from such talented, bright and friendly individuals. It makes the job so much more enjoyable and gives me something to look forward to everyday. On top of that, I like how challenging it is. There's always something new to work on, a new challenge to tackle. Our clients are Fortune 500 companies, and they have high expectations for our application. With the small size of our team we have to get a lot done. But that's what fun about it — it can be demanding and difficult. 
What I love about working at a startup is the amount of impact you can have as an individual. Changes are very visible, good or bad, and we always hear the feedback! Our clients are very vocal and not afraid to tell us what they think. It helps improve the product. And when you hear a lot of positive things, it's really rewarding, because you know you've made a difference for them. Perpetually trying to rise to the occasion is what I think makes the job exciting. 
What's been the most exciting project you've worked on since you've been here?
Art: I would have to say the Campaigns product. Campaigns is a way to organize your posts. For example, if you have a 2-week sale, and you want to have posts that promote it and track how they're performing, it's very useful. You can do themed campaigns, like Black Friday or the Holidays, or anything pertaining to your locations.
I worked on the Campaigns project when I first got here and basically built it from scratch in a very short amount of time. I like working on greenfield products that have no existing code base, and you have to build everything up from the ground up. It's more challenging and more interesting, because when you're working on a product that is already started, other people have already solved the big challenges, and you're just working to improve smaller aspects. But if you start from scratch, you can experiment more, and come up with an experience that the user will really love.
What's something that people don't know about you?
Art: Two things: First, I was once in a dance-off here at Reputaiton.com with my colleague Phil Rapisardo. It was pretty intense. Phil's a fantastic dancer and great guy, so I'll give the win to him. Second, I've lived in different countries and I love to travel. I grew up in Thailand, visited Silicon Valley several times, and lived in Montreal for about six months. Now I live in Chicago. Since many people are working remotely during the pandemic, I've been able to do some traveling while I'm working — as long as you have your laptop and a coffee shop, you can get things done.  
Have you picked up any new hobbies, during the COVID lockdown? 
Art: I'm trying to train my girlfriend's cat to do tricks. He's an especially independent cat. He can communicate, but only when he wants to, and I find that he's not super motivated. I mean, he's a cat! It's definitely not working, but I love it anyway.