5 Communication Best Practices for Senior Living Facilities During COVID-19 Pandemic
Adam Dorfman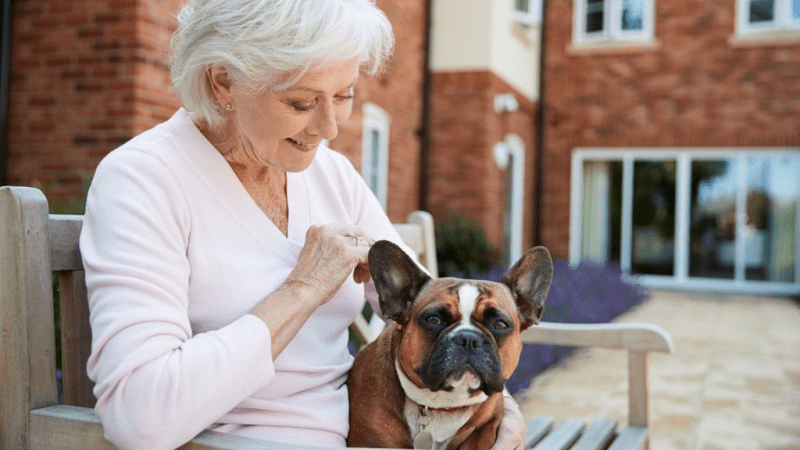 Senior living facilities are taking precautions to protect residents and their families against COVID-19. Since seniors are considered at high risk of contracting the virus, clear and timely communication is crucial.
Just as preparation helps prevent the spread of COVID-19, communication can help lessen fear for residents, family members and employees. Here are five COVID-19 communication best practices for providing assistance and support during this difficult time.
1. Be proactive.
It helps to have a team in place that can regularly communicate valuable information to residents, family members and staff. The COVID-19 pandemic is constantly changing, and your communications team can help continually evaluate the situation and provide strategic insight.
Examples of this communication can include:
Visitation information
Prevention measures
The process for screening and reporting symptoms for staff and residents
Monitored news and social media posts
One great example of this can be found on Argentum's website, which has a COVID-19 resource hub and toolkit, as seen below.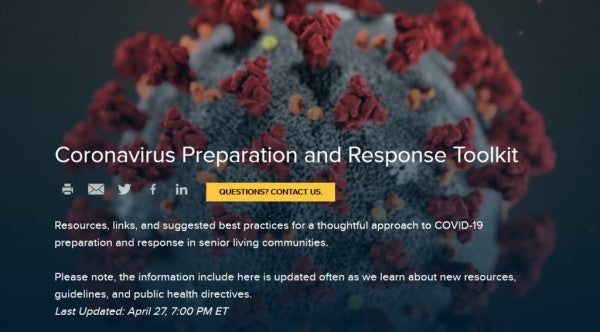 2. Develop a quarantine plan.
Develop a plan in case a quarantine is needed. Include what you will do for short-term emergency situations and for the foreseeable future. Communicate your quarantine plan to staff members so they are kept in the loop.
Send information to family members of residents at your senior living facility so they will be aware of your quarantine plan should you need to invoke it. That way, everyone is apprised of the rules and procedures before anything takes place.
This type of communication can be seen on Atria's Facebook page, where detailed explanations of the facility's proactive plans are displayed.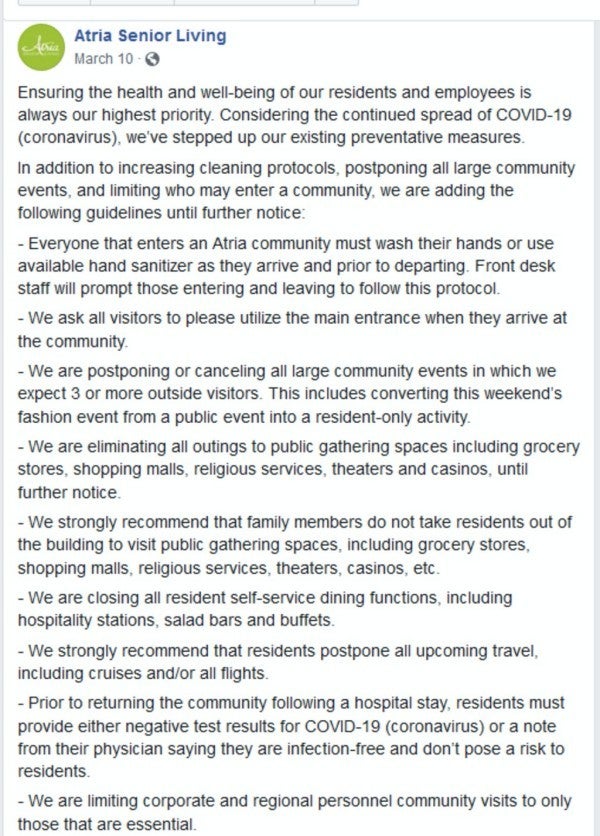 3. Monitor possible outbreaks.
Keep up with the news in your area to learn about potential outbreaks. Find out how other senior living facilities have handled emerging situations. This will help you further develop your own COVID-19 communication best practices so they will be ready to go if needed.
4. Enter the digital age.
Technology plays an integral role in the healthcare industry. Now more than ever, family members are searching online for senior care facilities before ever setting foot on the premises.
People also use social media to learn about long-term care facilities and can even chat with others whose family members need care. That is why making sure you are using digital communication channels to the full is crucial.
You can communicate with potential residents and their families. You will also have a platform for quickly communicating changes and updates during the COVID-19 pandemic.
MJ Senior Housing LLC provides a constant Coronavirus update via its Facebook page for residents and families, as shown below.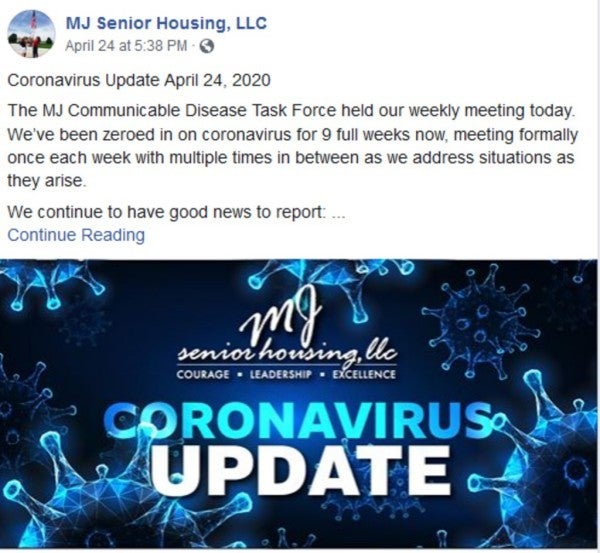 5. Show transparency.
A transparent organization shows your dedication to caring for your residents. This allows you to take a proactive approach and will lay the foundation for further communication as you continue to manage COVID-19. This helps you and your talented team prepare for the future both during the COVID-19 pandemic and beyond.
American House shares near-daily Facebook posts on its COVID-19 response and how residents, staff and daily life have been affected, as shown below.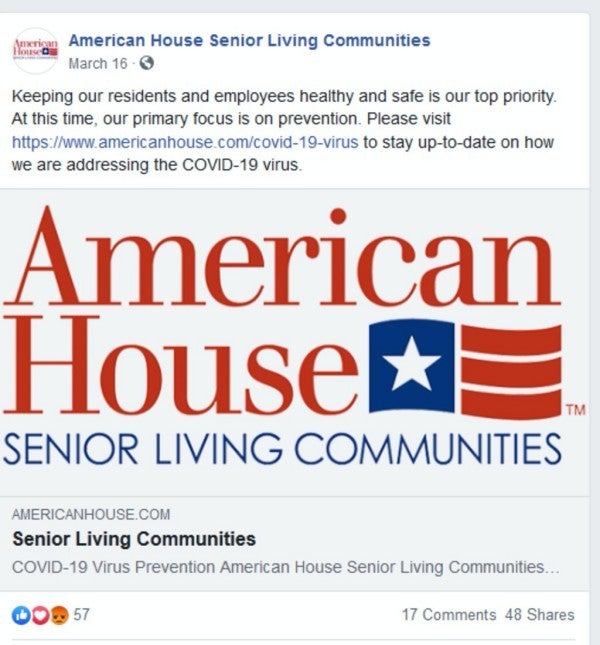 Reputation Can Help
Managing communications during this pandemic can be challenging, but following these five tips will help you effectively communicate with residents, families, staff and the community at large. In times of crisis, good communication will help alleviate stress and can even help people learn how to slow the spread of the virus. That can be lifesaving for your senior living community members.
Reputation can help you manage your COVID-19 response. Access our COVID-19 Resource Page today to learn more.