The Reputation Data Science team have analysed the resident experience trends from Carehome and Google reviews of over 2,500 care facilities in the UK. Moreover, we have ranked the top 10 largest senior living groups using our proprietary Reputation Score.
The key findings of our care sector report are summarised below:
Review volume is growing for the sector with 10x more reviews being generated over the previous 5-year period.

Much of the positive sentiment in care home reviews centres around 'staff' and 'nursing care'.

Review response rate is gradually improving and now sits at 41% but fewer than 40% of care homes have 1 or more review. 

A lack of responsiveness from care homes is the main driver of negative sentiment online.
These key findings illustrate the digital transformation that is beginning to get underway in the UK's care sector.
To get ahead amidst the care sector's digital transformation, providers must closely and proactively monitor their online reputation to secure consumer trust and increase occupancy rates. As part of their online reputation management, they must respond to reviews in a timely manner while maximising drivers of positive sentiment through review requesting. 
Click here to download our report – 'Quick Take: Online Trends in the UK Senior Living Market' – in a handy PDF format. Alternatively, navigate to various sections in this page via the links below:
1. Industry Trends in the Sector
3. Top Private Care Home Rankings
1. Industry Trends in the Care Sector
The care sector in the UK, specifically private residential nursing and care homes, was worth an estimated £16.5 billion in 2019. 
More recently, The National Audit Office reported in March 2021 that care home companies' "earnings before interest, tax, depreciation, amortisation and rent costs (EBITDAR) as a percentage of revenue have been stable over the past four years."
Much of the care sector's revenue and stable business performance over the last four years was perhaps generated from the 148,000 'self-funders' occupying the UK's private care facilities as of March 2020. 
However, despite the sector's strong and steady performance in recent years, facilities were placed under immense, unprecedented pressure from the COVID-19 pandemic which left care facilities scrambling to respond. One such challenge faced by the sector was the costly acquisition of Personal Protective Equipment (PPE) – the bill for which was already around the £6 billion mark in September 2020. 
As the UK enters the decisive phase of its 'roadmap' out of COVID-related restrictions, there remain significant hurdles to the sector, as well as myriad growth opportunities. 
Challenges and Opportunities Ahead
Care home sector companies must first understand the challenges ahead and then act decisively to address them if they are to capitalise on opportunities post-pandemic. 
Listen To Your Staff
The Health Foundation cites 'high turnover and vacancy rates' as key sector challenges with the industry struggling to compete on 'pay and conditions'. 
Care home staff have been thrust into the national spotlight during the response to COVID-19. There and there now exists a debate around the ethics of mandatory vaccinations for care staff, with Unison's General Secretary, Christine McNea, advocating for persuasion rather than "coerce nervous care workers."
With digital technology at their disposal, care home leaders can start to address some of these issues by implementing a 'Voice of the Employee' (VoE) programme which according to Forbes, can deliver a 21% increase in profitability. 
Caremark franchise recruitment director, Jeremy Dunn, recognises the importance of managing staff effectively to the industry: "Care business owners will only be able to drive volume if they manage the one resource that underpins that growth – the people who deliver the care."
Rising Demand & Recovery
Care home companies should be poised to meet rising demand. According to the National Audit Office, the private sector for care homes looks set to benefit from rising demand amongst the over-65s who own their homes. 
Alongside the increase in demand, it is predicted that care home occupancy will rise to pre-pandemic levels by end of 2021, according to Carterwood's, Ben Hartley. 
Savvy care home group leaders should aim to capitalise on the rising demand for over-65s' care and the sector's overall recovery by investing in tools to enable them to get found and chosen amidst an increasingly digital customer journey. 
Bolster Your Reputation & Drive Care Standards
The reputation of each care home location is imperative to the business performance of your company overall. A strong reputation builds trust and trust leads to higher occupancy rates. After all, who would commit themselves or a relative to live in a facility which has repeatedly received unfavourable reviews?
To win in the senior living market, providers must portray themselves in the best possible light, particularly online where the customer journey begins. Having an exceptional reputation online can be advantageous to companies, especially amidst reports from the Care Quality Commission which declared that '1 in 6 services fall below the required quality standards'. 
Private care home facilities ought to demonstrate not only to professional bodies that they provide the highest standards of care but they must also demonstrate this online in the form of reviews to potential customers. 
Be An Oasis In A 'Care Desert'
According to Age UK, there are areas of the country where 'sufficient social care is unavailable'. These 'care deserts', while a concern to society as a whole, perhaps presents an opportunity to private companies able to provide affordable care independently or in collaboration with agencies and local authorities. 
To address a gap in a particular locality, care home providers must adapt to the new customer journey, which almost invariably starts with Google's 'local 3 pack' – the search results which appear when one searches for 'care homes near me'. 
The importance of search engines like Google does not just apply to adult children looking for care facilities for parents; search engines matter to seniors themselves with 82% of them using a search engine to gather information on a topic of interest. 
2. What Does The Data Reveal?
We know the pandemic has affected the industry in many ways. But how has it influenced what residents say about their care providers in their ratings and reviews? And how has it influenced their perception of providers based on ratings and reviews? 
To find out, the Reputation Data Science team examined 73,500 resident ratings/reviews across industry websites such as carehome.co.uk and Google My Business profiles. We used our own proprietary data analysis methodology that uses natural language processing to detect patterns in comments. Here's what we found:
Review Volumes Are Constantly Growing But Are Inconsistent
Across most industries in the UK, review volume boomed in 2016 as large web players like Google and Facebook focussed on third party unstructured data to fuel their algorithms. Over 80% of consumers trust reviews as much as recommendations from friends and family. The care sector also shows these patterns of consumer behaviour.
Across the 2,500 analysed locations, we found the same steady increase in review volume. Since 2015, volumes have increased tenfold on Google and carehome.co.uk. However, a staggering 60% of all locations have 0 reviews! Having less than 40% of care homes with 1 or more reviews is a massive missed opportunity for these organisations. In addition to the impact on consumer decision, reviews account for 16% of Google local ranking factor. No review means that the location will not show up in the top three Google results.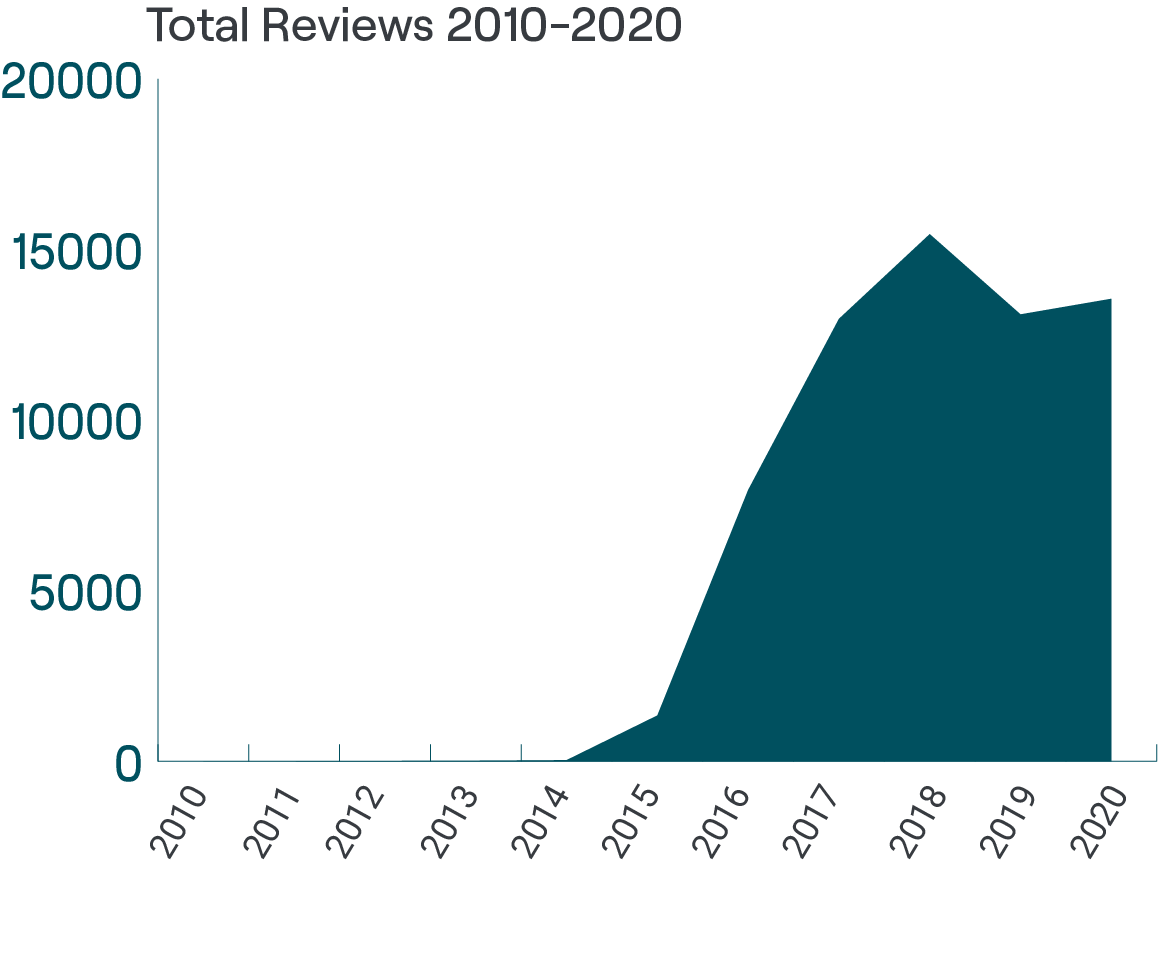 In 2020, Google paused reviews for a few weeks causing a drop in new reviews. But reviews are back bigger than before as families and residents are sharing their experience online. The positive ratings throughout the pandemic is a testament to the amazing work and support provided by carers across the country.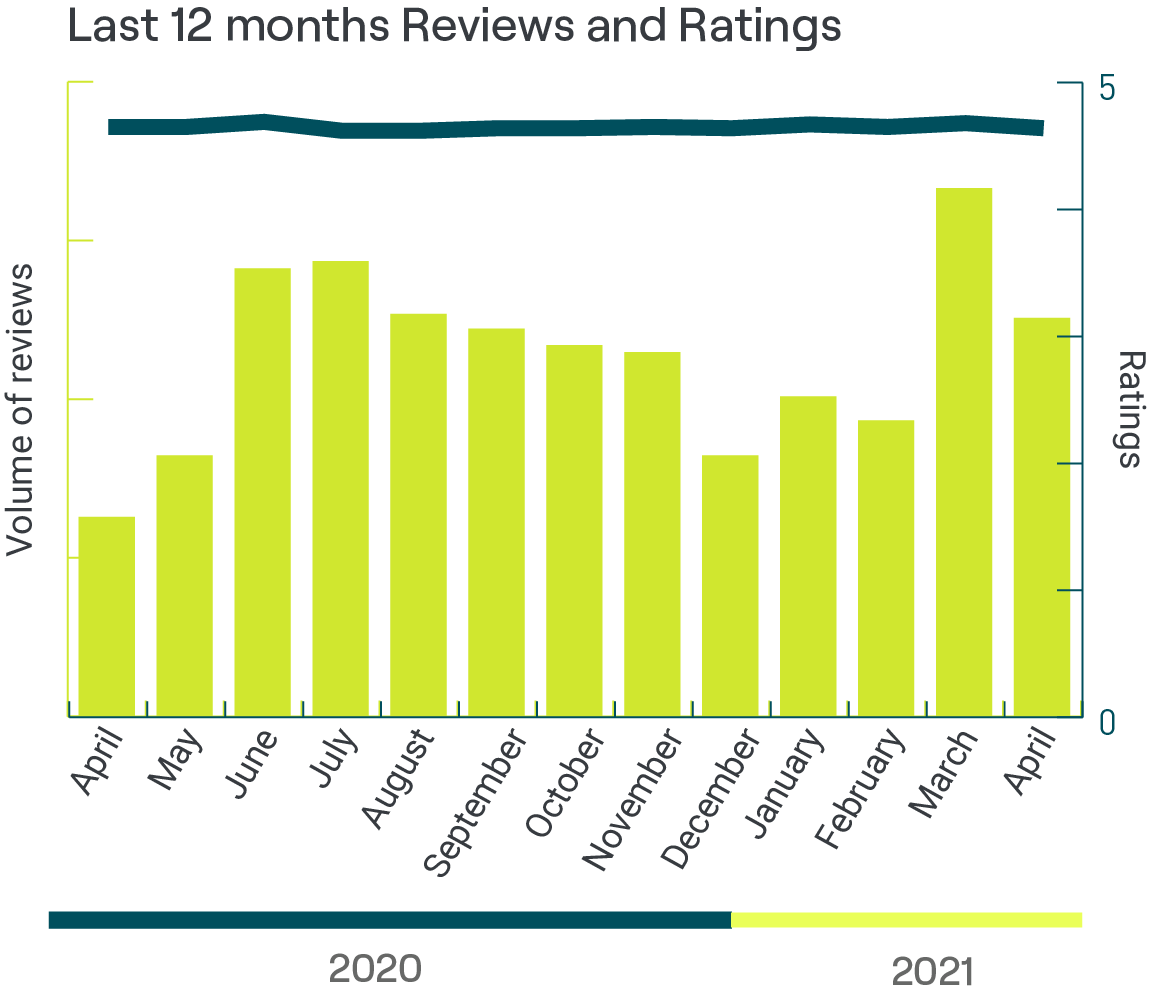 Response Rates Remain Lower Than 50%
The response rate to reviews from care providers has been increasing along with the volume in recent years but remains under 50%, meaning that more than half of all reviews posted online are left unanswered.
Responding to reviews not only shows residents that they are listened to but also has a direct impact on local search ranking factors.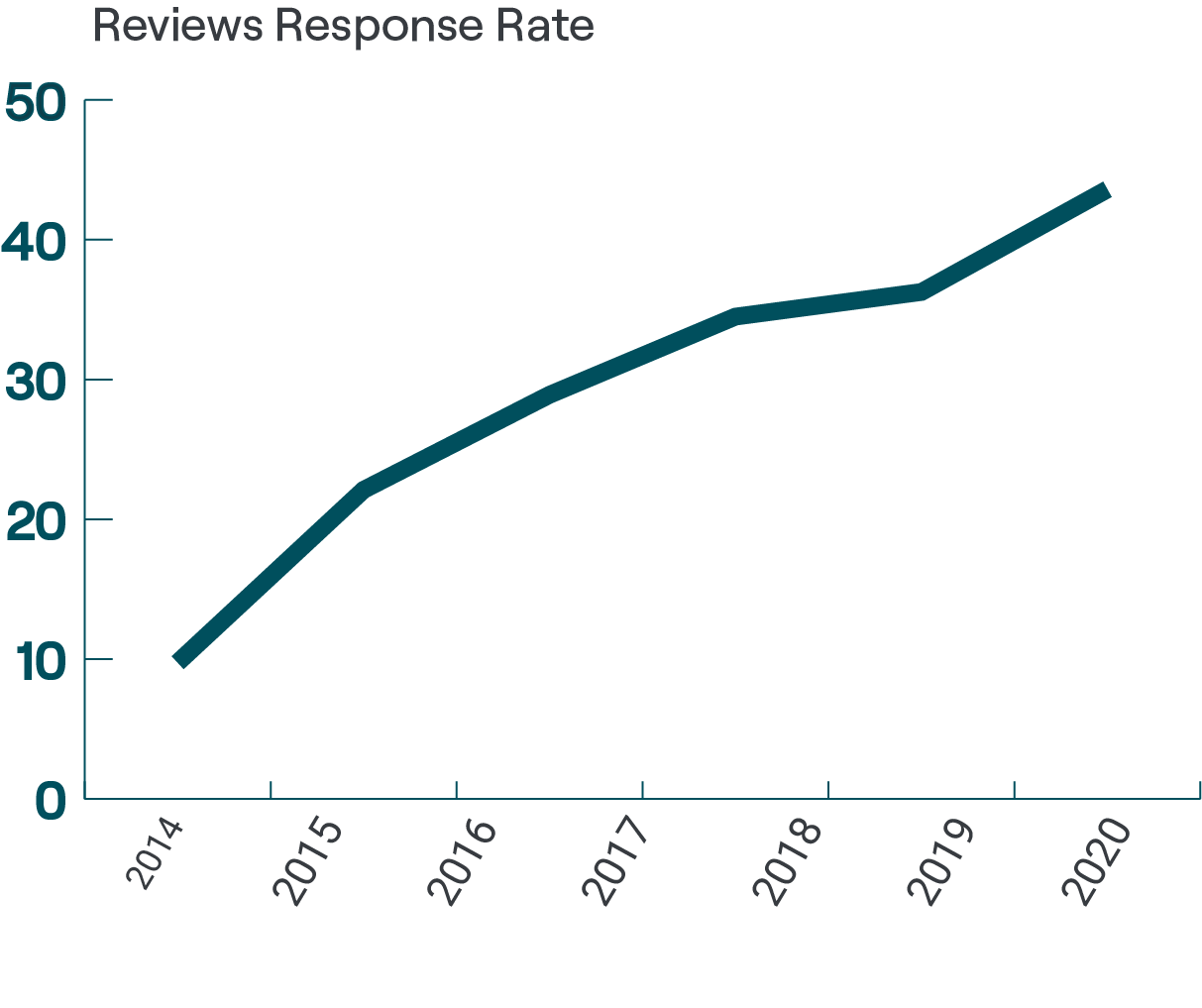 PPE & Covid-19 Related Reviews Are More Frequent and Positive
The frequency of this topic in reviews keeps growing even in 2021. The sentiment linked to Covid-19 and PPE is very positive with ratings averaging at 4.5 out of 5.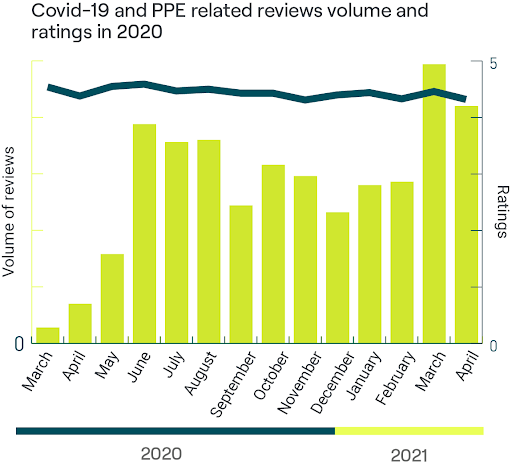 Staff and Nursing Care Quality are the biggest drivers of positive sentiment
Resident feedback relating to the staff and nursing care quality are among the most positive categories we analysed from all online reviews. These are important factors for residents and families when choosing a care home provider. As detailed earlier, high turnover is one of the main challenges faced by the industry and their staff is the one resource that underpins growth for care business owners.
The staff are all very nice and approachable, if there is an issue it is dealt with efficiently and to my satisfaction. I am very happy with the home and how it cares for my partner.
The staff are extremely caring, and it felt as though they treated my grandmother as a member of their own family. I was kept regularly updated by her key worker, particularly since the outbreak of covid.
My mother-in-law, who suffers from dementia, was admitted during COVID and has received excellent care in spite of the restrictions. The staff are very caring and helpful when answering any questions I have. I would recommend this care home to anyone who has a relative with dementia.
Less common in reviews but a driver of highly positive sentiment are mentions of 'Food Quality'.
My dear friend was very wary of having to go into a care home. I can say with no doubt that it was the best thing for her, she is very happy there. The food is outstanding.
All these are important factors, especially when care homes are competing locally and sometimes with live-in care and other alternatives.
Responsiveness (or lack thereof) is generating the most negative sentiment
Although the sector is glowing with positive reviews overall there is still room for improvement in some areas. Not surprisingly with a response rate averaging less than 50%, care homes seem to be ill-equipped to deal with such an increasing volume of feedback.
Mum praises carers, food and accommodation but management seem unresponsive and communication is impossible when no one answers the phone. We have not been offered any video link which would be a godsend at a time when normal visiting is not possible
The lack of communication from the home regarding visits and facilitating her to communicate with family was distressing for all of us.
Offering a great member experience means being responsive to residents and families comments. Providers need technologies to help them communicate with their local communities effectively.
3. Top Private Care Home Rankings
We ranked the top 10 largest senior living groups using our proprietary Reputation Score. To arrive at a group's Reputation Score, we evaluated facilities within each group and aggregated their scores.
Download our report and these care home rankings in a convenient PDF format.  
| | | | | |
| --- | --- | --- | --- | --- |
| | Reputation Score | Sentiment % | Visibility % | Engagement % |
| 1. Bupa | 551 | 85 | 51 | 97 |
| 2. Barchester | 534 | 89 | 50 | 83 |
| 3. HC-One | 524 | 84 | 49 | 64 |
| 4. Anchor Hanover | 507 | 85 | 49 | 64 |
| 5. Care UK | 446 | 81 | 46 | 50 |
| 6. Four Seasons | 301 | 78 | 39 | 61 |
| 7. Achieve Together | 153 | 53 | 9 | 62 |
| 8. Voyage Care | 132 | 40 | 5 | 61 |
| 9. Caretech | 131 | 33 | 5 | 62 |
| 10. Priory Adult Care | 130 | 31 | 7 | 63 |
The Industry Benchmarks
| | | | | |
| --- | --- | --- | --- | --- |
| Best In Class | 933 | 96 | 72 | 94 |
| Industry Average | 496 | 72 | 48 | 68 |
What Does It Take To Be A Top Care Home?
When we examined Reputation Scores for patterns in performance, we found that:
Leaders (the top performers) outperformed laggards (the bottom performers) in sentiment, visibility, and engagement.

Sentiment is especially important because of all the elements of Reputation Score, sentiment has the biggest impact. High ranking Barchaster has a high star average score of 89%.  

The biggest difference between leaders and laggards: visibility. Leaders rank higher in search engine result pages thanks to a larger volume of recent reviews, and spread across sector-specific reviews sites and most importantly Google.
The pandemic has underscored two fundamental needs for healthcare organisations:
Manage online reputation closely and proactively to increase occupancy rates
Understand and respond to resident feedback
Get Started
Undertaking digital transformation in your company can seem overwhelming but don't fret – our Reputation Experience Management (RXM) Guide is here to help professionals in the healthcare industry. Access the guide to gain insight into the actions you can take today to enhance your brand's online reputation and customer experience to boost business performance overall.